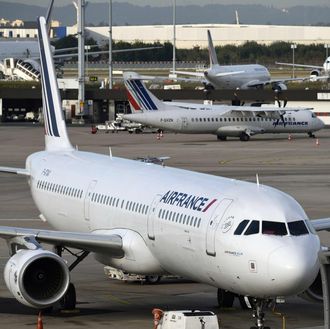 The planes are being searched for explosives.
Photo: Eric Feferberg/AFP/Getty Images
Two Air France flights headed from the United States to Charles de Gaulle Airport in Paris were diverted on Tuesday night due to anonymous threats. Both planes have landed safely.
Air France said in a statement that there was a "bomb scare" on Flight 55 out of Dulles International Airport outside Washington, D.C. That flight landed in Halifax, Nova Scotia. Flight 65 from Los Angeles International Airport was diverted to Salt Lake City International Airport.
The airline said the planes were diverted as a "precautionary measure," so "all necessary security checks" could be performed. The L.A. flight has been evacuated and the FBI is searching the plane for explosives, according to CBS News. Local authorities in Canada are searching the D.C. plan and its passengers.
The threats were made via phone after the planes took off. Earlier on Tuesday, Germany canceled a soccer game with the Netherlands and evacuated a stadium in Hannover due to a bomb threat. German chancellor Angela Merkel and other members of her cabinet were scheduled to attend.