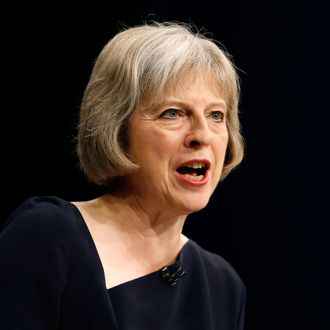 New legislation in the U.K., introduced this morning by Home Secretary Theresa May, will allow the kind of dragnet surveillance that the Snowden leaks uncovered from the NSA — including police and government access to browsing history and all "Internet connection records," which will be stored by internet and phone companies for a maximum of 12 months, reports the Guardian.
Under the draft Investigatory Powers Bill — which the opposition Labour party is said to support — police and security services won't need a warrant to access the data. While the government is required to obtain the permission of judicial commissioners to issue interception warrants in cases of "sensitive professions" like journalists and members of Parliament, those safeguards wouldn't apply in "urgent cases" that need to be pushed through right away — in less than five days, according to the bill. 
In the announcement, May revealed for the first time that, since 1994, the government has issued "secret directions" to internet and communications companies ordering them to provide bulk data on British citizens. What's more, the data actively prevented terrorist attacks. In other words, in many places the bill would simply legalize what the government has already been doing for two decades. "There should be no area of cyberspace which is a haven for those who seek to harm us to plot, poison minds and peddle hatred under the radar," May said.
Privacy activists have taken their cause online, tweeting about the bill under the hashtag #SnoopersCharter. The Guardian has a breakdown of what's in the law here.
While NSA legislation has been slow to come in the U.S., the U.K. law sets a precedent. We're not looking at getting rid of mass surveillance, or reforming it. Instead, we're slowly enshrining it, and giving up our privacy in the process.