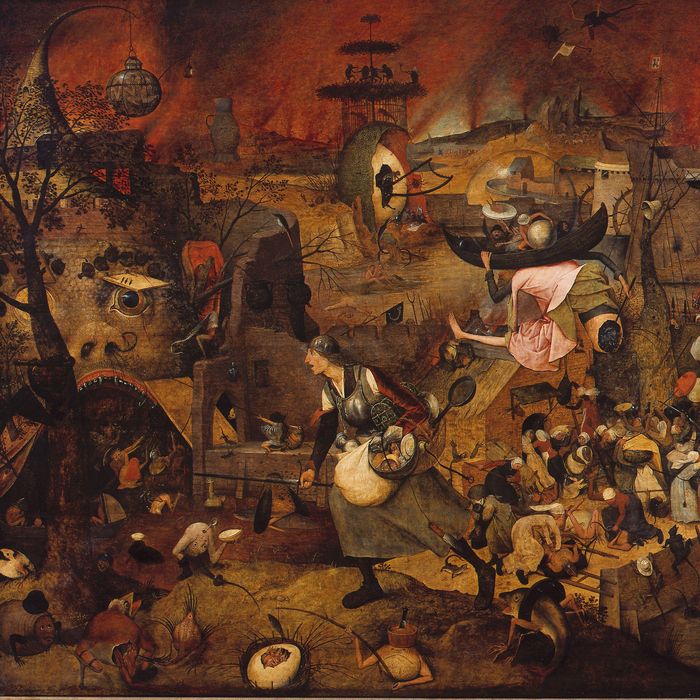 At least people are working.
Photo: Museum Mayer van den Berg
On Friday morning, the Bureau of Labor Statistics announced that the unemployment rate has fallen to just 5 percent, a product of 68 straight months of private-sector job growth, the longest such spell on record.
"I do not want to walk my five grand-kids through the charred remains of a once-great country called America and say, 'Here you go, $20 trillion dollars of debt. Good luck making something out of this mess,'" Mike Huckabee said during the Republican debate last week.
There are now more Americans working full-time jobs than there were before the recession hit, with non-farm payrolls climbing by an estimated 271,000 in October alone.
"Two percent growth? It means more people stuck in poverty! It means one in five children on food stamps!" Jeb Bush recently said, stumping in New Hampshire. "That's the new normal? I hope you agree with this, that we need to reject that out of hand!"
Wages climbed 2.5 percent year-on-year, the strongest rate of growth in six years. That has given economists hope that average families might finally feel more of the effects of the recovery.
"We have $19 trillion in debt. We have people out of work. We have ISIS and Al Qaeda attacking us," Chris Christie intoned at the debate.
Even long-term unemployment is returning to prerecession levels. And given the still-low rate of inflation, there is little fear of the economy overheating — particularly if slowdowns abroad start weighing more heavily on the American recovery.
"The illegal immigrants … have taken jobs that should go to people here legally, while over 20 percent of Americans are currently unemployed or underemployed," Donald Trump writes in his new book, Crippled America. "Believe me, they're all over the place. I see them. I talk to them. I hug them. I hold them."
The most recent data shows that one commonly cited measure of unemployment and underemployment just fell below 10 percent.