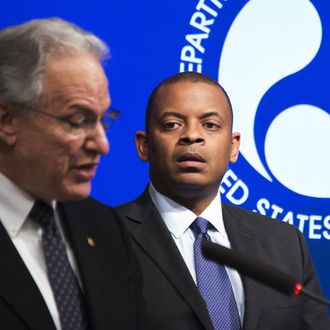 Photo: Jim Watson/AFP/Getty Images
Takata, a Japanese auto-parts manufacturer, now owes the United States government at least $70 million in fines for its defective air bags. That sum could spiral up to $200 million if the company fails to meet specific terms set by U.S. regulators in the National Highway Transportation Safety Administration, which requires Takata to stop making the air bags with the same chemical formula believed to have caused the equipment to explode and shoot metal fragments at passengers.
Takata has already recalled more than 19 million U.S. vehicles for having at least one of these faulty air bags, which have been linked to at least eight deaths and nearly 100 injuries worldwide. Officials with the NHTSA, in announcing the penalties and terms of its five-year-agreement with Takata, said the company bungled its response to the air-bag problems and failed to recognize the scope and seriousness of the malfunction. 
And the hefty fines aren't the end of Takata's problems. The company is still rushing to make replacement parts for the affected vehicles, and millions more recalls for Takata-made air bags are likely in store because the manufacturer still does not have concrete evidence as to what exactly has caused the air-bag glitch. The main culprit appears to be the company's use of ammonium nitrate propellant, the chemical that inflates the air bags once they're released. According to the Associated Press:
>