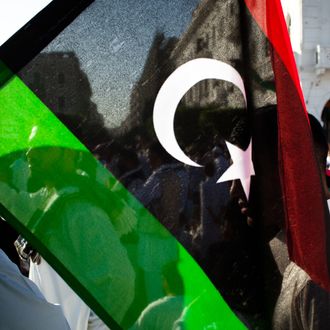 Photo: Daniel Berehulak/Getty Images
The Pentagon announced on Saturday that they believe a strike by U.S. warplanes has killed Abu Nabil al Anbari, the leader of ISIS's affiliate in Libya, marking the first time the U.S has ever targeted an ISIS leader outside of Iraq or Syria. According to Agence France-Presse, an F-15 strike killed Al Anbari, also known as Wissam Najm Abd Zayd al Zubaydi. Speaking of the strike, a Pentagon spokesman insisted that Al Anbari's death would "degrade" ISIS's capabilities in the country.
The Washington Post notes that Al Anbari commanded what U.S. intelligence officials say is ISIS's strongest branch outside of Iraq and Syria, a branch and job he was assigned by ISIS leader Abu Bakr al Baghdadi in 2014. The Pentagon also believes he may have been the narrator of an ISIS propaganda video showing the murder of 21 Egyptian Coptic Christians on a Libyan beach earlier this year. Before going to Libya, Al Anbari had been a senior ISIS official in Iraq.
The Pentagon also insisted that the strike had been "authorized and initiated" before Friday's attacks in Paris — which seem to have been perpetrated by ISIS-linked extremists. The assassination of Al Anbari comes within days of the Pentagon saying they were "reasonably sure" they had killed the notorious ISIS executioner Jihadi John with a drone strike in Syria.
This post has been updated to add more information about Al Anbari and ISIS's affiliate in Libya.