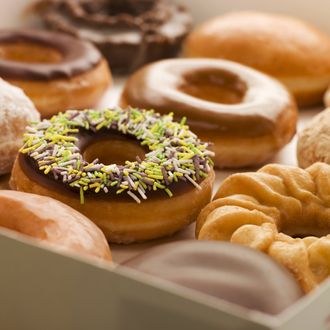 However, if they were from Greenbush they were probably still good.
Photo: monkeybusinessimages/Getty Images
A man from California who was kicked out of a college football game in Madison, Wisconsin, last weekend had a curious sort of revenge against the University of Wisconsin–Madison Police Department on Monday: sending them a shipment of 20 dozen doughnuts. But they were all coconut. Which many people think are gross.
The man (who told reporters he wants to remain anonymous) traveled from Los Angeles to see the Badgers take on Northwestern at Camp Randall Stadium when he found out last-minute that he had been assigned a seat in a section far away from his friends. He was unaware of the rule that requires fans to sit in the section they are assigned when they enter, so when he attempted to join his group, officers threw him out of the stadium. According to Marc Lovicott of the UW-Madison Police Department, he was one of 110 fans that were ejected that day.

Then 240 (of arguably the worst) doughnuts appeared out of nowhere at the police headquarters at the beginning of the workweek. Lovicott was able to get the sender's name from the delivery driver and began emailing with him.

"This was meant as a harmless way to show general gratitude for the job you do (which is awesome)," the man emailed Lovicott. "Donuts are awesome, but coconut donuts are not so awesome." Also, you know, cops are widely known to eat doughnuts.

Lovicott said the man was respectful as he was being escorted out of the stadium and told him he was "really sorry about his experience." He had been assigned to a student section where security officers are particularly strict with the rules. He also noted that many of the people the police have to deal with are intoxicated.

Lovicott informed the man that the pastries would be shared with a homeless shelter because "there's no way we'll be able to eat 240 donuts" with a staff of 130. The surplus was given to the Salvation Army.