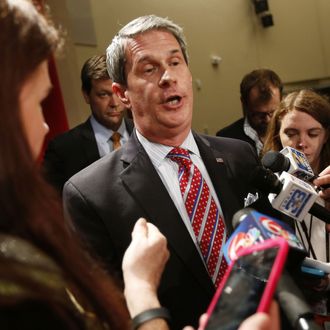 "More like Refu- 'Geez Louise,' am I right?"
Photo: Gerald Herbert/AP/Corbis
David Vitter will need to overcome a lot of headwind to be elected Louisiana's next governor on Saturday. The Republican senator trails his Democratic rival by double digits, can't stop bragging about how his wife forgave him for having sex with prostitutes, and is saddled with the legacy of the state's current GOP governor, Bobby Jindal, who boasts a 70 percent disapproval rating. But Vitter believes there's one thing that can propel him past those obstacles and into the governor's mansion – the fear of a coming tide of Syrian refugees.
In the wake of the Paris attacks, Vitter's opponent, Democratic state representative John Bel Edwards, published a Facebook post in which he vowed to help federal authorities "both accommodate refugees who are fleeing from religious persecution and ensure that all our people are safe." Despite the fact that Edwards's emphasis on "religious persecution" gestured toward the "Christians-only" refugee policy of Vitter supporter Ted Cruz, Facebook commenters nonetheless lambasted the Democrat as an enabler of Islamic terrorism. Edwards eventually revised "accommodate" to "assist," and declared that no refugees should be allowed into Louisiana, pending more information on the screening process. But by then Vitter had what he saw as an opening.
The Vitter campaign released an ad Monday which features images from inside Stade de France on the night of the attacks, when there was a soccer match on. "One of the Paris ISIS terrorists entered France posing as a Syrian refugee," a narrator intones. "David Vitter warned Obama of the danger of Syrian refugees weeks ago, and promised as governor, no Syrian refugees will enter Louisiana. John Bel Edwards has promised to work with Obama to bring Syrian refugees to Louisiana."
Except: last night, a top European Union official announced that all of the known Paris attackers have been identified as European nationals, not undercover Syrian refugees. But as Dave Weigel notes in the Washington Post, the debate over refugees in Louisiana isn't especially focused on established facts. On Monday, multiple state news blogs claimed that Louisiana had already taken in 10,000 Syrian refugees – a count that's only off by 9,984.