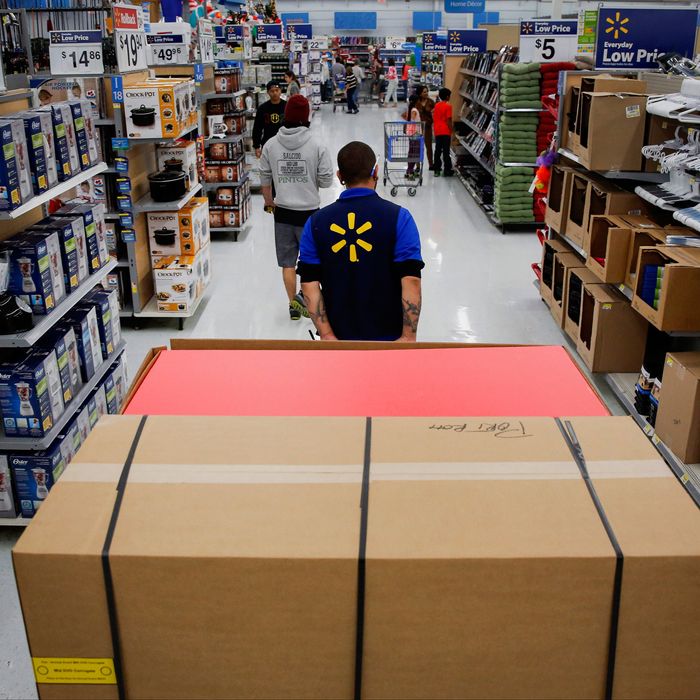 An employee pulls a forklift with display units for DVD movies at a Wal-Mart Stores Inc. location ahead of Black Friday in Los Angeles, California, U.S., on Monday, November 24, 2014.
Photo: Patrick T. Fallon/Bloomberg via Getty Images
At Walmart stores around the country, Black Friday will begin at 6 p.m. tomorrow evening. "Our customers can count on us to deliver three things on Black Friday: We're offering amazing prices, we bought deeper on the gifts they want, and we simplified the shopping experience in stores and online,"  Steve Bratspies, the company's chief merchandising officer, said in a press release. "To bring it all to life, we have great associates."
Great associates that Bratspies and his other less aptly named colleagues have been spying on.
Bloomberg is out with an insane story about the lengths that Walmart goes to keep a tabs on its associates, many of whom have protested for higher wages and more predictable schedules on Black Fridays and other days past. The big-box retailer signed up for an intelligence-gathering service from the military contractor Lockheed Martin. It involved the Federal Bureau of Investigation. It created a so-called "Delta team" to keep an eye on its low-wage employees and on labor activists working with them. It had employees report intelligence back to the "home office" in Bentonville. It added staffers to a tips hot line, and ranked stores by labor activity.
As such, the story reads a little like Tom Geoghegan trying to do John le Carré:
2:30 p.m., Store 5880 in Fairfax, Va.: "A customer began talking to a cashier about the strikes at Walmart this week, and the cashier responded that maybe she should go on strike. AM [assistant manager] feels the cashier was joking when she made the comment."

4:19 p.m., Store 3893 in Zion, Ill.: "Three associates made comments surrounding the 'strikes' in other stores to Grocery ZMS [zone merchandising supervisor]. Grocery ZMS shared his opinion but didn't state our philosophy. He will do so the next time the associates are at work."

The last call in the log, on Oct. 15, came from Yuma, Ariz.: "An associate asked what would happen to associates if they walked out on Black Friday."
It is a great yarn, and a great reminder of just how crummy low-wage jobs can be, especially around the holidays. Thousands and thousands of Walmart associates will have no choice but to head into work tomorrow, whether they want to or not. And if they don't like it, and choose to protest it, well, who knows who will be watching?