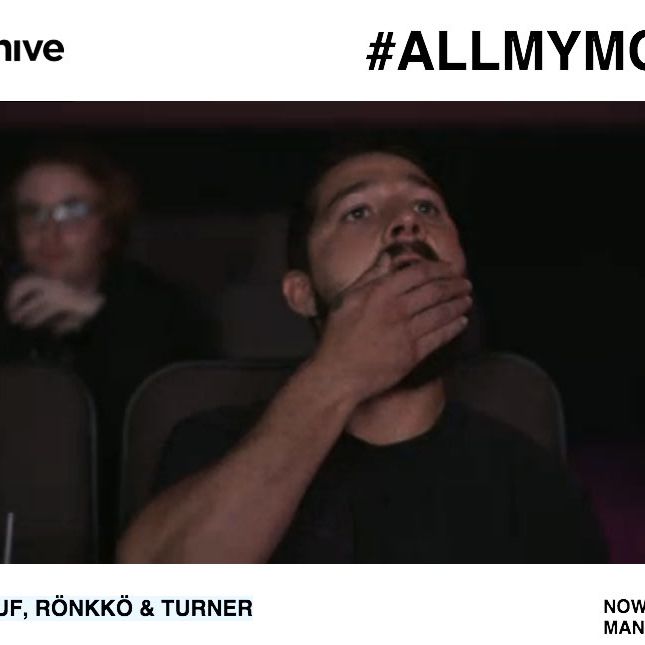 On the digital-art website NewHive, Shia LaBeouf is continuing his adventures into "art" by streaming a live video of himself watching all of the movies he's been in, consecutively, for three days straight, 24 hours a day. In the live-stream, hosted at Angelika Film Center in New York, the camera is pointed straight at his face, which changes color slightly as the movies progress. Sometimes, he eats popcorn or sips his soda. Those are the exciting moments.  
LeBeouf seems bright and focused now (at the time of publication, he was watching 2015's Man Down), but over the course of several days of being exposed to his own worst (and best) work, he's bound to look a little worse for wear. The durational performance, created in collaboration with Nastja Säde Rönkkö and Luke Turner, with whom LaBeouf formed a collective, has something in common with the work of artists like Marina Abramovic or Tehching Hsieh, though a Hollywood-lite version. It's easy to imagine James Franco and Tilda Swinton competing over the idea. 
More than a little narcissistic, extremely bizarre, straight-to-the-public, and made for the internet, the performance is pure Shia, the same person who brought you apology-as-performance-art. Watching the stream is oddly soothing, but that's probably because we don't actually have to see the movies. Maybe he should add some Twitch comments?