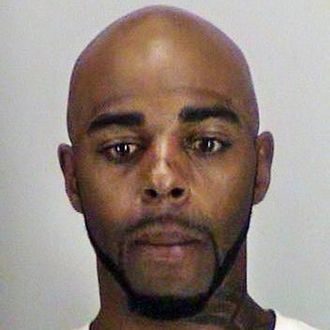 Photo: Sommerville Police
On November 11, a 51-year-old homeless man collecting recyclables from a garbage can in Mullaly Park near Yankee Stadium discovered a garbage bag with an M-4 semiautomatic rifle and two SIG Sauer 9mm handguns inside. He contacted the police. It turns out his find was part of a cache of weapons that had been stolen from the armory of an Army Reserve center in Worcester, Massachusetts.
The police arrested James Walter Morales, 34, last Wednesday for the gun theft. Morales is a former reservist who was trained as a medical logistics specialist and served at the same Worcester facility he allegedly stole from for three years between April 2010 and November 2013. Authorities were able to tie him to the crime through blood he left at the scene after he used a power saw to cut open the roof of the gun vault. Morales was also wearing an electric monitoring device as a condition of his release earlier this year on pending charges of raping a child.
According to an affidavit connected to the case, surveillance video from the reserve facility on November 14 showed Morales going back and forth from his car to the building housing the gun vault with duffel bags for six hours between 6 p.m. and midnight. Morales was charged with unlawful possession of a machine gun, unlawful possession of stolen firearms, and theft of government property. The weapons recovered in the recycling are only 3 of the 16 that were reported stolen.