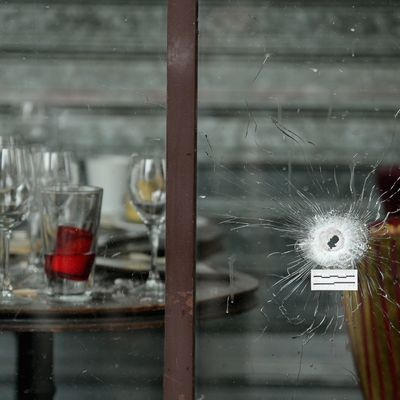 One of many bullet holes left over from Friday's attacks at a cafe near Casa Nostra in Paris.
Photo: Christopher Furlong/Getty Images
Authorities are pursuing the accomplices and fugitives who allegedly took part in the brutal attacks that killed 129 people and injured another 352 on Friday night in Paris, and details about the attackers and their possible accomplices continue to emerge. Here's what we know so far.
The Latest
• Twenty-seven-year-old Belgian man Abdelhamid Abaaoud was killed in a police raid in Saint-Denis on Wednesday.
• A manhunt is under way for 26-year-old Salah Abdeslam, one of three brothers suspected of involvement in the attack


How the Attacks Were Carried Out
According to Paris prosecutor François Molins, the assailants split themselves into three coordinated teams. One group headed to the Stade de France, another went to the Bataclan concert hall in a black Volkswagen Polo, and a third group traveling in a SEAT León hatchback fired on multiple locations.
The Stade de France Attackers
The Paris attacks began around 9:20 p.m. when one of three terrorists blew himself up at the Stade de France in Saint-Denis. The first two suicide bombings happened outside the stadium, and the third by a nearby McDonalds. One civilian was killed in these bombings. The Wall Street Journal is reporting that one of the three attackers had a ticket for the France-Germany soccer match that was underway and detonated his suicide belt after being turned away at one of the stadium's entrances. Police suspect his aim was to blow himself up in the stadium so as to cause a deadly stampede among the crowd.
Le Bataclan Attackers
Another three men perpetrated the siege of the Bataclan concert hall, resulting in the systematic slaughter of at least 89 people who were attending a sold-out rock concert — the deadliest attack of the night. Witnesses said the attackers seemed very young, were wearing tight black clothing, carried Kalashnikov rifles, reportedly shouted "Allahu akbar," and mentioned Syria and Iraq during the attack. When police commandos finally raided the concert hall, two of the attackers were killed when they detonated their suicide vests, and the third was shot and killed by police.
Police later found a cell phone in a trash can outside the concert hall that contained a map of the venue space, and a text message that read, "Let's go, we're starting."
The Restaurant Attackers
The third group drove around to several restaurants and cafes in Paris's tenth and 11th arrondissements. They first opened fire on diners at Le Carillon and Le Petit Cambodge, killing 15 people and seriously wounding ten others. Then they killed five people and critically wounded eight at Café Bonne Bière. Next they killed 19 people and critically wounded nine at La Belle Equipe. There was also a suicide bombing that seriously wounded one person at the Comptoir Voltaire restaurant.
The Attackers Had Direct Links to ISIS
According to several reports, the Paris attackers had communicated with Syria-based members of ISIS, as opposed to just having been inspired by the group. French and American officials told the New York Times that "the attackers had operated with high levels of sophistication," suggesting that "the plot involved considerable planning and input from an organized group." Meanwhile, Iraqi intelligence officials told the AP that, "The Paris attacks appear to have been planned in Raqqa, Syria — the Islamic State's de-facto capital — where the attackers were trained specifically for this operation and with the intention of sending them to France. Officials also said a sleeper cell in France then met with the attackers after their training and helped them to execute the plan."
European authorities had been keeping tabs on — or at least were aware of — most of the radicals involved in the Paris attacks. Now many people are trying to figure out why all of that information was unable to prevent dozens of deaths. "What we know is that most of these people came back from Syria and nobody stopped them," one member of the French senate foreign and defense committee said this week. "Whatever the reform that has been implemented [in the intelligence agencies] it's not working." One Belgian journalist told the Washington Post that the authorities are probably overwhelmed. "We always see in hindsight that people were known or followed. Such things happen. In hindsight it is easy to say, but with the numbers that have to be followed, it's impossible to watch them all."
Attack's Alleged Planner Killed 
On Monday, authorities named the alleged architect of the attacks, 27-year-old Abdelhamid Abaaoud. The Associated Press called him "Belgium's most notorious jihadi, a zealot so devoted to the cause of holy war that he recruited his 13-year-old brother to join him in Syria." French officials believe that Abaaoud may have been linked to the attempted terror attack on a Paris-bound train in August — the one prevented by the three Americans and British man riding the train — as well as another failed plot in Belgium. In January, Abaaoud's sister, who lives in a posh neighborhood in Brussels, told the Times she was somewhat baffled by her brothers' change over the past few years. "They did not even go to the mosque," she said of their pre-Syria life. Abaaoud moved to Syria last year.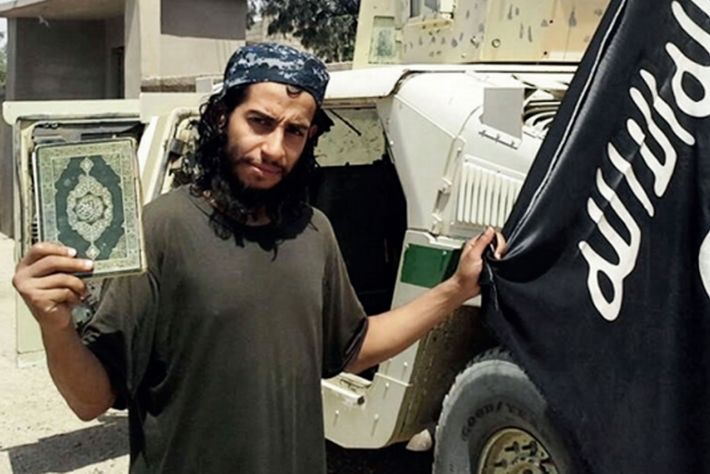 On Wednesday, he was killed in a police raid in Saint-Denis, a suburb of Paris. Abaaoud was the target of the raid, which was prompted by analysis of phone records and surveillance. His cousin, Hasna Aitboulahcen, also died during the raid. It was originally reported that she blew herself up after yelling, "He's not my boyfriend!" On Friday, however, the Paris prosecutor confirmed that she had not been the suicide bomber. There was a third body found in the rubble outside the apartment; it has not yet been identified.
The 110 police officers who took part in the raid were fired upon 5,000 times, according to the Paris prosecutor's office. 
France had no idea that Abaaoud, who is believed to have been partly responsible for four out of the six planned attacks that have been thwarted by French authorities since this past spring, had returned to France. 
Seven Attackers Killed, Manhunt on for Eighth
According to the Washington Post, around 20 people may have helped Abaaoud plan and carry out the attack. At least seven men were directly involved in carrying them out, and seven were killed, six by detonating their explosive suicide vests, and one after being shot by police. Until midday Saturday, reports had indicated there were eight assailants who had been killed, but only seven confirmed dead. On Sunday, authorities said the eighth possible attacker is actually alive, and an international manhunt is now underway. Here's what we know about each of the alleged attackers:
1. Salah Abdeslam
French police say the 26-year-old Belgian-born French national is still at large. His role in the attacks is unclear. Authorities describe Abdeslam, who grew up in the same neighborhood as Abaaoud, as "dangerous" and have warned citizens not to try and apprehend him if they see him. Abdeslam is one of three brothers believed to be involved in the attacks. His older brother Ibrahim Abdeslam was one of the Paris suicide bombers, and his other brother, Mohamed, was arrested in Belgium. Mohamed was later released; he told reporters who asked about his brothers, "I cannot tell you why, I cannot tell you how." He added, "Please know that my family and I are moved by what happened. We found out on television, as many of you did, and we had no idea that one of my brothers was linked to the attacks."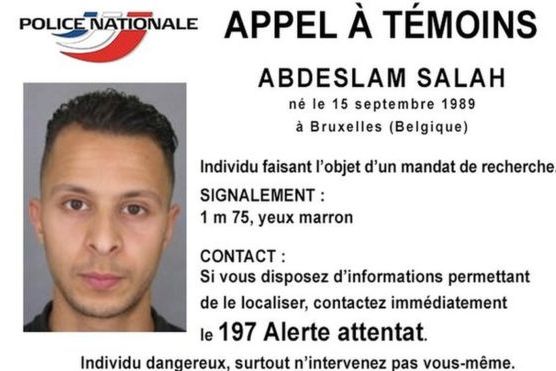 The AP reports that French authorities had stopped Salah near the Belgian border on Saturday morning, but let him and his two passengers go after checking his ID.
Salah had reportedly rented two rooms at a hotel in southern France, according to French newspaper Le Point. "As well as syringes and pizza boxes, Le Point claims to have found half-eaten chocolate madeleines, as well as syringes and tubes," The Guardian reported. DNA from several of the attackers was reportedly found at the hotel. Another flat near the Stade du France was booked by Salah's brother through the website Homelidays.
A black Renault Clio with a shattered window was found in northern Paris on Tuesday; it was reportedly connected with Salah. French authorities also sent a bulletin around Europe telling law enforcement to watch out for a Citroën Xsara that Salah may be currently using. 
2. Ibrahim Abdeslam
Investigators say Ibrahim Abdeslam is the suicide bomber who struck the Comptoir Voltaire cafe. Le Monde reported that he rented the black SEAT León, but it's unclear if he was in the vehicle during the attacks. The car was found abandoned in the eastern Paris suburb of Montreuil with three Kalashnikov automatic rifles inside, as well as several full and empty magazines.
The AP reports that he once went to prison for selling stolen IDs to people who wanted to stay in Belgium illegally.
3. Ismaïl Omar Mostefai
Mostefai, a 29-year-old French national, blew himself up after murdering spectators in the Bataclan concert hall. Mostefai grew up in Courcouronnes, a suburb of Paris, and his family moved to Chartres when he was in his teens. He was arrested for eight minor offenses between 2004 and 2010, and he caught the attention of French intelligence in 2010 due to his association with radical Islamists at a mosque in the city of Lucé. A French police official says they lost track of him in winter 2013, and they believe he traveled to Syria around that time. Turkish officials say they warned France about Mostefai in December 2014 and June 2015.
One Turkish official told the Huffington Post, "This is not a time to play the blame game, but we are compelled to share the above information to shed light on Omar Ismail Mostefai's travel history," the official said. "The case of Omar Ismail Mostefai clearly establishes that intelligence sharing and effective communication are crucial to counter-terrorism efforts. The Turkish government expects closer cooperation from its allies in the future." He reportedly went to Turkey in 2012 or 2013 — and there is no record of him leaving. 
Six people connected to Mostefai have now been detained by authorities, including his father, brother, and sister in law. Mostefai's younger brother told the AFP that he hadn't seen him in years, adding, "It's crazy, insane. I was in Paris myself [Friday] night, I saw what a mess it was."
4. Bilal Hadfi
Like Mostefai, Bilal Hadfi recently traveled to Syria, and it's believed that he fought with ISIS. The 20-year-old French national returned to Belgium from the Middle East before intelligence agencies there lost track of him. He was one of the three suicide bombers who hit the Stade de France.
On Thursday, Belgian authorities in Brussels began conducting raids to find people connected to Hadfi, according to the Times. They detained one person for questioning. 
5. Samy Amimour
On Monday, the Paris prosecutor's office identified two more suicide bombers. One was Samy Amimour, a 28-year-old Frenchman who blew himself up in the Bataclan music hall. According to the AP, he was charged in a 2012 terrorism investigation and placed under judicial supervision, but authorities lost track of him. There was an international warrant out for his arrest.
Mohamed Amimour, Samy's father, told Le Monde last year that he traveled to Syria to try and convince his son to leave. It obviously didn't work. "Our reunion was very cold," Amimour said. "Daesh are highly organised. They use a telephone chip just once. You can never call them back again."
6. Ahmad Al Mohammad
A Syrian passport with the name Ahmad Al Mohammad was found with one of the suicide bombers at the soccer stadium, and Greek officials say that the same passport had been registered by a refugee in Greece. This raises the possibility that at least one of the attackers may have entered Europe as a migrant. On Saturday, the Serbian newspaper Blic reported that the passport belonged to a 25-year old Syrian born in Idlib, and published this scan:
Blic also reports that the man carrying this passport entered Serbia on October 7, after having entered Greece on October 3. Additional reporting by The Guardian indicates the passport was then scanned again in Croatia and Austria after that.
On Monday, the Paris prosecutor's office confirmed that the passport was found at the scene, and said the attacker's fingerprints match those of someone who traveled through Greece in October. Other details about his travels through Europe have not been confirmed.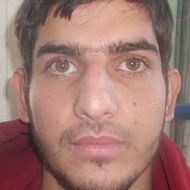 French authorities have just released his picture, hoping that someone will be able to match the photo on the passport to his real name. 
It is worth noting that because of the value of Syrian passports in the migrant community, it's possible that the passport's original owner and the attacker are not the same person, just as it's possible the passport was stolen or could be a forgery. In Serbia, a man carrying a passport with the same name and information as the one found with the Paris attacker — except with a different photo — was arrested. The original passport may have belonged to a Syrian regime fighter who died months ago, according to the AFP. French investigators are trying to figure out where these documents came from.
This connection is sure to become a political wildfire in Europe, which is in the midst of the biggest refugee crisis since World War II. (Earlier reports had indicated that two Syria passports were found among the Paris attackers, but there now seems to have been only one.)
7. and 8. Unidentified Attackers
An anonymous French senator said two attackers at Stade de France were found with fake Turkish passports, but that has not been confirmed. 
9. ?
On Tuesday, several reports indicated that there may have been a ninth person involved in the attacks. Video footage showed that there were three people in the car that carried shooters to cafés in eastern Paris, according to Le Figaro.
Shortly before news of the potential ninth attacker was released, French police announced they were looking for a second fugitive besides Salah Abdeslam.
Alleged Getaway Drivers Arrested in Belgium
At least seven arrests have been made in Brussels of people suspected of having connections to the attacks. 
Hamza Attou and Mohammed Amri are accused of driving Salah Abdeslam to safety in a black Volkwagen Golf last Saturday. According to NBC News, the pair "told investigators they were merely called and asked to pick up Abdeslam and drive him back to Belgium." They say they had no idea what he was doing before they drove to meet him. Authorities have not released any information on the other five arrests. 
Links Between Attackers — But Not Much of a Trace
The New York Times made a chart that tracks all of the similarities between the attackers. Most were French, and many were living in Belgium and had visited Syria. A handful were connected to Abaaoud. However, there isn't evidence that any of the attackers communicated at all; authorities think that they may have been using apps with encrypted communications. As our fellow bloggers over at Following point out, it's not clear what apps or services the attackers many have been using — or whether having access to them would have allowed the authorities to stop the attack. Expect the debate over encyrption to ramp up just in time for the 2016 presidential race, though. 

Raids Conducted Across France, Leading to Dozens of Arrests
French authorities have conducted more than 790 raids since the Paris attacks, arresting at least 90 people. Prime Minister Manuel Valls said French intelligence services foiled five attacks since the summer, and warned that terrorists could strike again "in the coming days or weeks." On Monday, ISIS reportedly released a new propaganda video saying it planned to strike D.C. and European countries that have conducted air strikes against Syria. "I say to the European countries that we are coming, coming with booby traps and explosives, coming with explosive belts and silencers and you will be unable to stop us because today we are much stronger than before," a man says in the video.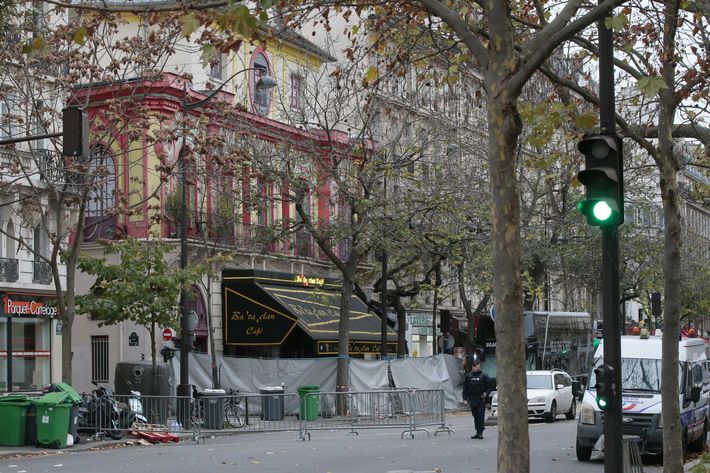 French interior minister Bernard Cazeneuve said that 23 people were arrested in the raids, and police seized arms including rocket launchers. In the last two days, 104 people have been put under house arrest. He added that "war" has been declared on France, and, "Anybody who attacks the Republic, the Republic will fight back."
This post has been updated throughout.