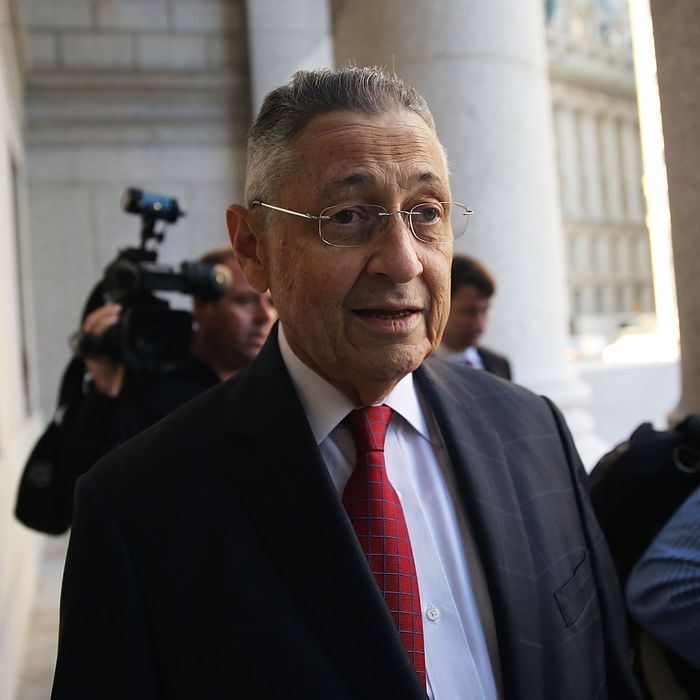 Sheldon Silver, who really shouldn't be enjoying this.
Photo: Spencer Platt/2015 Getty Images
For more than two decades, State Assembly speaker Sheldon Silver decided what got done in New York as one of Albany's "three men in a room." Then in January, Silver was arrested on federal charges as part of U.S. Attorney Preet Bharara's crusade against corruption in the state government. Silver resigned as speaker — but held on to his position as assemblyman for the Lower East Side of Manhattan — and this month his trial finally got underway.
Senate Majority Leader Dean Skelos, the second "man in a room" with Governor Cuomo, was hit with federal corruption charges in May, and his trial began last week. Skelos and his son, Adam, were charged with conspiracy, extortion, wire fraud, and bribery. Prosecutors allege that Skelos did political favors for AbTech Industries, an Arizona environmental company, and Glenwood Management, a large New York developer, in exchange for payments to himself and his son. The younger Skelos is also accused of telling his boss at a malpractice-insurance company that he would "smash in" his head when he complained that he only worked about one hour during his first week on the job. The company reportedly kept Skelos on the payroll because they were afraid of alienating his father. The elder Skelos has resigned as majority leader.
According to the New York Times, the two cases have had a "chilling effect in the Capitol," with lawmakers afraid to do much legislating for fear that what they consider "business as usual" will be interpreted as corruption by investigators. Meanwhile, Silver's attorneys are trying to make that point to a jury, arguing that the political process in Albany is just inherently shady. Here's what's happened so far.
January 22, 2015
Silver was charged with mail fraud, wire fraud, and extortion. New York state legislators are allowed to hold part-time jobs, so it was legal for Silver to be on the payroll at the law firm Weitz & Luxenberg. However, the complaint from Bharara's office alleges that Silver performed no legal work at the firm, and his position was just a cover to allow him to accept bribes. "[T]here is probable cause to believe that Silver obtained approximately $4 million in payments characterized as attorney referral fees solely through the corrupt use of his official position [as speaker]," reads the complaint.
For instance, Dr. Robert Taub of Columbia University would refer victims of mesothelioma to Weitz & Luxenberg, and Silver received part of the settlement money the firm made from those cases. Prosecutors allege that Silver simultaneously funneled $500,000 in state funds for cancer research to Taub's clinic, but the firm was not aware of this. "Silver never told the Weitz & Luxembourg Attorneys that he was going to allocate, or had allocated, any State funding to [Taub]'s research or to asbestos-related research generally," according to the complaint.*
In another alleged scheme, Silver received $700,000 from the law firm Goldberg & Iryami for pushing two major real-estate developers to use their services.
April 23, 2015
Federal prosecutors filed new indictments that increased the number of charges against Silver to seven. The original charges of mail fraud, wire fraud, and extortion were each split into two charges, and Silver was hit with one new charge: monetary transactions involving crime proceeds. According to The Wall Street Journal, the former speaker was accused of taking the proceeds from his other schemes and investing them into private, high-yield investments, which he gained access to by taking "certain official actions" requested by an unnamed investor.
November 3, 2015
A day after the official start of Silver's trial, the government settled on a jury consisting of nine women and three men. They also selected four alternates (which came in handy when one of the original jurors was excused because her employer wouldn't pay her during the weeks-long trial).
In her opening statement, Assistant U.S. Attorney Carrie Cohen outlined Silver's two alleged plots, frequently using the terms "bribes and kickbacks," and "secrets and lies." She said prosecutors would show how the assemblyman told "lie after lie" to hide his activities, which were "not politics as usual." "Power. Greed. Corruption. This is a case about a powerful politician who betrayed those he was supposed to serve to line his pockets," she said.
Silver's lawyer, Steven Molo, countered that while prosecutors might not like how politics is conducted in New York, Silver committed no crime. He accused Bharara, who was sitting in the courtroom, of choosing to view Silver's actions "through dirty windows," while he was actually conducting government business "consistent with the way that our founding fathers of the state of New York wanted it to function." Molo explained that allowing Assembly members to hold part-time jobs creates inherent conflicts of interest. "It's impossible, absolutely impossible, for a member of the Assembly to do his or her job and to go out, make laws, deal with people, do the job that a person in the Assembly does and not have some form of conflict of interest," he said. 
The government called Assemblywoman Amy Paulin to describe how Albany works and the speaker's vast power. During cross-examination Molo questioned Paulin so aggressively about how she benefited financially from her own legislative votes that the judge asked him to tone it down, and Paulin said she's "going to be much more careful" in the future.
November 4, 2015
Dr. Robert Taub took the stand, explaining that in 20o3 he began referring mesothelioma patients to the personal-injury law firm Weitz & Luxenberg at Silver's request. He said he referred 25 to 50 patients to Silver over the next decade.
Taub, who has a non-prosecution agreement with prosecutors, testified that there "was a pattern" where Silver would ask for referrals whenever he requested more research funding from the government. "If I would ask him to do something, he would ask for something in return," Taub said, according to the Journal. However, Taub said he had no explicit agreement with the speaker.
Taub said he knew the referrals could "benefit [Silver's] standing in the firm," but was unaware that Weitz & Luxenberg was paying the speaker for the referrals. The doctor insisted his own goal was to secure more funding for cancer research, not personal gain. Silver's attorneys have tried to play up the relationship between the two men. In his opening remarks, Molo said prosecutors are upset that "friends might do favors for friends."
Silver and Taub were introduced by a mutual friend, the attorney C. Daniel Chill, but the doctor said that after the first referral, Silver said they should stop talking to Chill about their business relationship. "I didn't know what to make of it actually," Taub said. "He just wanted it kept between me and Mr. Silver, between me and him."
November 5, 2015
In Taub's second day on the stand, Silver's lawyers tried to underscore that the doctor did not think they were trading patient referrals for grant money. But prosecutors introduced an email Taub sent his nurse that suggested they had a transactional relationship. "I will keep giving cases to Shelly because I may need him in the future — he is the most powerful man in New York State," Taub wrote in 2010.
November 10, 2015
Lawyers from Weitz & Luxenberg testified that Silver didn't perform any actual legal work since he joined the firm in 2002. "We thought that Sheldon Silver would bring prestige, honor to the firm, and help the name of the firm," Arthur Luxenberg said. He claimed Silver never told him that he was having state money funneled to Taub's clinic.
Silver received millions in referral fees from Weitz & Luxemberg, and his attorneys tried to suggest he did more than refer mesothelioma cases from Taub. Gary Klein, the firm's managing attorney, said about three quarters of Silver's referrals came from the doctor. He also referred some negligence cases, and often had personal ties to those involved.
While he did not work on any cases, Silver received special treatment from the firm. When he complained that his payments weren't coming fast enough, Klein started depositing the checks into Silver's bank account himself.
November 11, 2015
Silver was quiet and reserved while serving as speaker, but according to The Wall Street Journal, in the courtroom he's been chatty and friendly with journalists (outside the courthouse, he just repeats the phrase "I believe I will be vindicated" every day). Last week, he teased reporters who wrote about his new demeanor saying, "I'm not going to smile anymore," with a grin. Silver is facing up to 20 years in prison, but it sounds like he's having the time of his life.
November 12, 2015
Prosecutors introduced a 2012 letter that outlined an agreement between Silver and the law firm Goldberg & Iryami which said Silver would get a share of the fees generated from the firm's business with Glenwood Management. The government alleged that Silver received about $700,000 in kickbacks from the law firm in return for referring Glenwood and another developer. Silver is also accused of using his political influence to ensure that Glenwood got sizable tax breaks and favorable rent-control regulations.
November 13, 2015
Albany lobbyist Brian Meara testified that while on vacation in 2011, he received a strange call from Silver. The speaker said he might have to file new state-disclosure forms revealing that he was reviving fees from Glenwood's limited-liability companies. Meara was lobbying the state on behalf of Glenwood, and said he was "surprised and concerned" by Silver's revelation that he was "representing" the real-estate company.
Silver asked if Meara was representing just Glenwood Management, or its limited-liability companies as well. Meara said he was only representing Glenwood itself. Silver said that since he was only on the payroll of the limited-liability companies, he figured it wouldn't be "a problem." Meara said he "didn't understand the distinction" Silver was making between the companies, and prosecutors suggested that's because there isn't one.
Unsurprisingly, jurors were not enthralled by the testimony about Silver's business dealings. The New York Post reports one juror fell asleep for 12 minutes, and an alternate was doodling rather than paying attention.
November 16, 2015
Richard Runes, Glenwood Management's chief lobbyist, testified that both he and top executives at the real estate company were "angry" and "upset" that Golberg & Iryami informed them in 2012 that they had been paying Silver referral fees related to their business for a decade or more. "I was surprised, concerned, upset," Runes said. "I did not know if this in fact was legal. There were too many complications."
Glenwood is the largest campaign contributor in Albany, and Runes said he was "uncomfortable with the arrangement," but also concerned about potentially alienating the speaker. Runes consulted a lawyer who specialized in state ethics laws without mentioning Silver. The attorney suggested that the deal was acceptable because the hypothetical politician wasn't receiving payments from Glenwood itself.
The ethics lawyer gave the deal the green light, Runes said. Glenwood executives had Goldberg & Iryami omit mentions of Silver from its retainer, and Silver was reportedly okay with their attempt to conceal the deal.
There was more jury drama on Monday when one juror said she wouldn't be able to come in until Wednesday because she twisted her ankle. Following a phone call from the judge, she agreed to show up.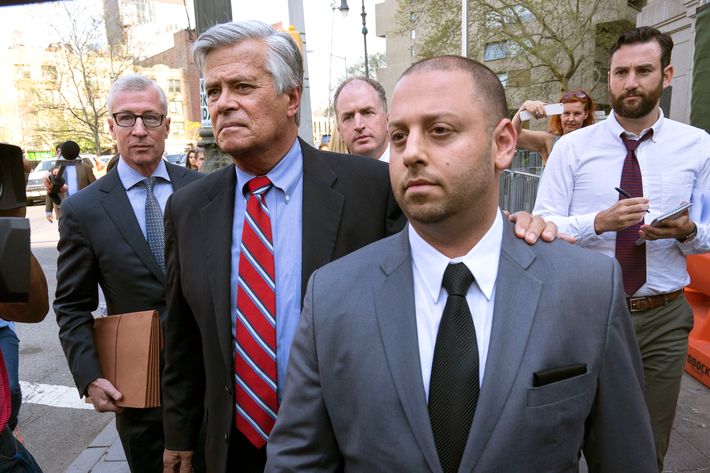 November 17, 2015
The Skelos trial got underway on Tuesday, and in opening arguments prosecutors alleged that Dean Skelos made it clear to various companies that his assistance hinged on them paying his son. Assistant U.S. Attorney Tatiana Martins emphasized Adam Skelos's age several times, The Wall Street Journal reports, saying the state senator used his influence "to line his grown son's pockets."
Both men have pleaded not guilty, and their attorneys said the government is trying to twist their relationship. "What the government is trying to do here is turn a very normal father-son relationship into a crime," said Adam Skelos's attorney, Christopher Conniff.
November 18, 2015
Following testimony about how Silver invested the money earned from his business dealings, which allegedly amounted to money laundering, the government rested its case.
When the judge asked if Silver wanted to testify, he quietly declined. The defense called no witnesses, and the jury was given the rest of the week off. Jurors will hear closing arguments on Monday.
Meanwhile, Chris Curcio, Adam​ Skelos​' supervisor at the medical-malpractice ​insurance firm PRI, testified that when he called Adam to confront him about missing most of his first week of work, he replied, "Guys like you couldn't shine my shoes. You'll never amount to anything. If you talk to me like that again, I'll smash your fucking head in." Curcio said his superiors promised to fix the situation, but instead Skelos was promoted to a consultant.
Adam's attorney noted that Curio had no experience when he started, and only got his job because his mother spoke to his uncle. But Assistant U.S. Attorney Tatiana Martins countered by asking, "Is your mother an elected official, Mr. Curcio?" "No," he said. "Is she the senate majority leader?" "No," he replied, as the audience laughed.
In a wiretapped conversation, the father and son discuss how mad they are about Governor Andrew Cuomo's decision to ban fracking in New York. "Aaaaugh! This state sucks," Adam Skelos told his dad, according to WSHU. Senator Skelos responds that he's going to run against Cuomo as retaliation ("He's full of shit.") — something that seems especially unlikely now.
November 19, 2015
Charles Dorego, general counsel for Glenwood Management, testified that in December 2010 Dean Skelos ended a meeting by saying, "his son Adam was embarking on a new career in the title business and that if there was anything that we could do to help Adam, it would be much appreciated." Dorego said over the next few years Dean and Adam Skelos pressured Glenwood officials to do business with Adam. He also described the huge role the legislature plays in setting regulations that affect real-estate developers.
Dorego said he felt "an awful lot of pressure to try to make something happen" for Adam because he was afraid of how his father would respond. "I just felt like we were being a bit badgered," Dorego said.
November 23, 2015
Jurors heard closing arguments in the Silver case. Assistant U.S. Attorney Andrew Goldstein spent hours summing up the prosecution's case — with the help of "slides with titles like Nine Reasons You Know Sheldon Silver is Guilty," according to the New York Times. "Sheldon Silver was a master of every form of deception," he added, "lying, keeping secrets, even splitting hairs."
Silver's lawyer argued that the legislative calendar — and the fact that state representatives work part-time — were to blame for any accusations of impropriety. He was adamant that there were no quid pro quo arrangements. "It's virtually impossible for someone to serve in this citizen-legislator model and not have some form of conflict." He added, "It's OK to be motivated by the money. Our legislators in the state of New York are part-time." 
U.S. Attorney Preet Bharara watched the final arguments from the back of the courtroom. 
Silver told reporters outside the courtroom, "I look forward to a verdict of not guilty. I think my attorneys did a very good job."
Meanwhile, the Skelos trial entered its second week. The jury had the chance to listen to a wiretapped phone call in which Adam Skelos told someone at a Greek diner association that it was "a privilege to have [his phone number]. Now if you want to utilize my fucking reach and business opportunity, then you call me and I'll set up a meeting." As the Times prudely put it, the call "captured what seemed to be a raw side of the younger Mr. Skelos." 
The founder of AbTech — the company Adam Skelos had been working for — also testified. He said the state senator had been helpful in explaining how Hurricane Sandy recovery funding would be dispersed.
November 24, 2015
After weeks of listening to people talk about Albany politics, jurors may have turned to the dark side and started treating each other not so nicely — and less than two hours after jury deliberations for the Silver trial began on Tuesday. One juror wrote a note to the judge asking to be excused, saying that they couldn't "think straight." 
"I am wondering if there is anyway I can be excused from this case," the note said, "because I have a different opinion/view so far in this case and it is making me feel very, very uncomfortable." The note goes on to say that the juror is "so stressed out right now that I can't even write normally. I don't feel like I can be myself right now! I need to leave!" 
According to the Daily News, another juror sent a different, slightly more passive-aggressive note shortly after, complaining that "One of the jurors is having difficulty distinguishing whether or not exchanging state funds for something in return is illegal." Judge Valerie Caproni said it was very early to get a note like this," and quickly sent the jury back to work and reminded them that they should "respectfully exchange views."
There was also a jury issue over at the Skelos trial, where a woman was reportedly dismissed early for "chest pains."
* This post has been updated with new information, and to clarify that prosecutors have not accused Weitz & Luxenberg of having any knowledge of Silver's alleged scheme.