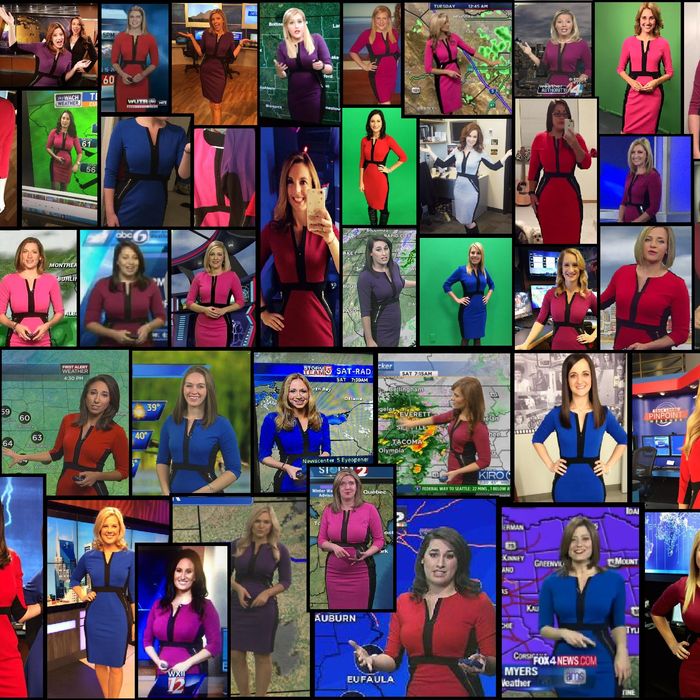 No matter where you go in the U.S., some things about local TV just don't change: bad Sunday movies, Seinfeld in syndication, and meteorologists all wearing the same dress. Wait, what? What dress?
A collage on Imgur showed around 50 newscasters — mostly meteorologists — wearing different shades of the same brightly colored, long-sleeved pencil dress with black trim. A conspiracy, perhaps? A network-issued uniform for all those who would warn us of the coming El Niño?
Nay, just an Amazon bargain that was too good to pass up.
As Fox 4 Dallas's Jennifer Myers explained on Facebook, someone tipped off a private Facebook group for meteorologists about the dress, and suddenly everyone had one, including Myers and her co-worker Jenny Anchondo.
They call it "THE dress" — although that evokes memories some of us have worked extremely hard to bury — but to Amazon it's known as Homeyee Women's Stretch Tunic Pencil Sheath Dress U837.
But what makes U837 so ubiquitous in TV news? It's partly the business-casual vibe and the sleeves, North Carolina meteorologist Lyndsay Tapases told BuzzFeed. But it's also the price: THE dress costs $22.99.
"Many of us don't have a clothing allowance and are responsible for buying all of our own clothes," Tapases pointed out.
Wherever you find yourself when the world eventually ends, you'll hear about it from someone in a brightly colored pencil dress.