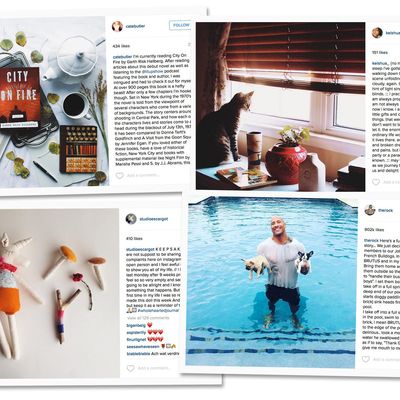 Photo: @catebutler; @keishua_; @therock; @studioescargot
The last thing you expect from the Rock is long-windedness. But Dwayne Johnson is a veritable novelist on Instagram, where he documents his days, which are composed chiefly of pumping iron at the gym, playing with his dogs, and eating snacks on private jets. Take, for example, this post from Labor Day, in which Johnson tells the gripping story of jumping into his pool with two baby French bulldogs in no less than 240 words. Spoiler: The dogs almost drown, but the Rock saves them.
Instagram, a minimalist, mobile-focused app for sharing photos, might seem like a strange place to keep a public diary. Facebook, which aggressively positions itself as an ongoing digital record of your life, comes across as a more natural place to share updates and idle musings. But the Rock's not alone: People are increasingly turning toward Instagram not just as a place to post filtered photos, but to spill their lives and thoughts into the captions as well.
Click through for the full Instagram diary entry.
Why is this happening? For one thing, if you're already posting pretentious, evocative images, you're more likely to be in an artsy-musings state of mind. But it's more than that: Facebook, at 1.5 billion users, has felt cacophonous and impersonal for a while. Many of us use it as an address book more than a means of communication; with its sheer density of information, writing a sincere post there feels a little like shouting on the streets of Manhattan. Instagram might eventually grow as large as Facebook, but its uncomplicated design and tightly curated feed make it more than just a photo app — it's also one of the more potent blogging spaces around.
Natasha Japanwala, a start-up employee and writer in London, was feeling frustrated with larger social networks when she turned to Instagram for blogging. "Facebook is daunting in a way that Instagram is not yet because literally everyone I know is on Facebook," she says. "Posting on Facebook can be an almost political act. On Instagram I have a little more freedom to just be me."
Japanwala's Instagram is a series of moments drawn from her life in London that, though not quite as dramatic as the Rock's stories, are compelling in their brevity. One recent post narrates how on a walk through the foggy city she came upon a houseboat turned into a bookstore parked on a canal. Another observes an out-of-the-way coffee shop with novelistic precision: "the kind of place where mothers come to read with their newborn babies strapped onto them." "I like to use it to push myself to find and relay the minutiae of the everyday with as much piercing detail as is possible," she says. "I wanted a long-form and intimate correspondence."   
Click through for the full Instagram diary entry.
Instagram limits each caption to 2,200 characters. The potential length becomes extremely annoying as a marketing tool, and brands often abuse it to post contests or elaborate copy (see this explainer from Crowdfire). But in the hands of an average user, it provides plenty of space for a few observations of "the enormous and simple beauty of ordinary life," as @keishua_ writes in one post, a snapshot of her cat gazing out the window.
Cate Butler's Instagram captions tend toward the quality of a lifestyle blog, memorializing meals made and books read in a Ina Garten–level syrup. "Sometimes breakfast for lunch is a necessity," Butler, a freelance marketer in Utah, writes. Elsewhere, she notes: "I find myself looking forward to soft woolly sweaters." "Like everyone else, I started with a Facebook account, then Twitter, Tumblr, etc., but they all lacked something," Butler tells me. "What I wanted to post about, and what I cared about, I quickly found other social networks didn't have."
Another appeal is the community of Instagram's built-in audience. Dutch doll-maker Sophia Smeekens-Starrenburg found "other creatives, mothers, and people that try slow and spiritual living" through Instagram, as well as real-life friends, she says. It became a place "where I can tell my life story in square pieces. Easy to access and quick." This means sharing uncomfortable feelings as well as joy. Smeekens-Starrenburg recently recounted her miscarriage in an elegiac post.
Click through for the full Instagram diary entry.
Instagram caption-blogging tends toward the trials and mundanities of everyday life, separating it from "blogging" as we think of it today — interlinked, news-focused dialogue and debate. Instagram comments aren't threaded, re-sharing requires an outside app, and the character limits mean subtle arguments are hard to make. Also: You're forced to type on an annoying-to-use mobile keyboard.
Still, what makes Instagram an attractive blogging platform for some makes it terrible for others. What's the point in writing if you can't be an #influencer, participating in an ongoing collective debate? A less structured, more communicative platform like Medium will always be better for topical discussion, if that's what you're after. Instagram is designed for lifestyle content; it's not going to replace a website CMS anytime soon.
But the app's simplicity and ease of use makes it perfect for people who are looking to communicate with little friction with a small, direct audience. Best of all, Instagram still feels "private," even when it's not: It's rare to encounter strangers or trolls; old classmates and distant relatives are unlikely to follow you and even less likely to leave comments. If Facebook, where your short life update could wind up in a friend-of-a-friend's newsfeed without you realizing it, is a minefield, Instagram is a clearing: quiet, safe, pretty, and more than a little twee.
In this sense Instagram feels less like Blogspot, and more like Livejournal. You don't read it for debate or argument, but to know what your friends are doing and feeling. Most Instagram blogging requires a certain amount of innate sympathy to find compelling. But opening the app can be a nice return to an older internet, where people felt more open and less paranoid about sharing the endearing ordinariness of their everyday lives online.
Click through for the full Instagram diary entry.
To be sure, Instagram's use as a blogging platform is not exactly widespread, yet. On vacation in Spain this year, I tried an experiment with journaling on the platform, writing out diary entries and posting them as images alongside the usual tourist snapshots. It reached my friends more directly and felt less exposed than Facebook, but that doesn't mean it was particularly compelling. Most of the posts got fewer likes than a selfie or a shot of a cute dog.
The platform is "very performative," Japanwala says. Self-expression and intimacy are implied, but not always present or reciprocated. "For every day in my life that I paint for someone else, I want them to paint their day back for me," she adds. "Perhaps that's unrealistic." But as Instagram grows, and as users abandon the confusing din of Facebook for the relative quiet of its filtered feed, it will become the platform of choice for documenting our lives. And we'll look back on the Rock as a pioneer.