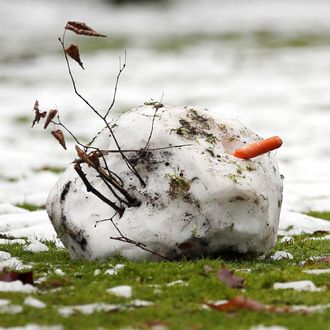 Run away, snow people! You are not welcome in New York City right now.
Photo: Martin Gerten/AFP/Getty Images
The calendar says it's supposed to be the first week of November, but it kind of feels like New York fell into a seasonal-affective hyperloop when Daylight Saving Time ended, sending the city back to the warm, short-sleeve days of September for good. 
Winter hats, which usually begin appearing around now, are an endangered species, and high temperatures are teetering toward 70 degrees today. On Friday, temperatures could get as high as 75 degrees. The New York Post talked to an AccuWeather meteorologist who said, "There's a good possibility of no snow until December." This year is already set to be the hottest ever recorded. 
It's a far different winter prologue than the one New York City was forced to endure last year, when November was dominated by bitter temperatures, harsh winds, and record-setting cold. During the New York City Marathon last year, high temperatures hovered in the 40s. 
When colder temperatures finally send hats and gloves out of hibernation, it's not quite clear what kind of winter the Northeast is going to get, thanks to the unpredictable, "too big to fail" "Godzilla" El Niño. Even though it feels like winter may never come, we could be due for insane amounts of snow. Or we could just end up with lots of cold rain. No one is quite sure yet, so make sure you soak up the great, shorts-beckoning outdoors while you can, in case a plague of polar vortices banishes us indoors for good in a few months.