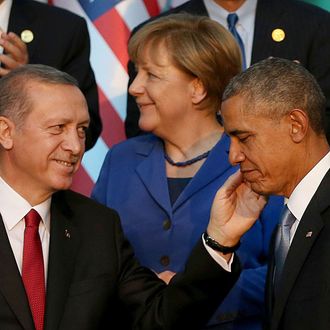 Turkish president Recep Tayyip Erdogan and President Barack Obama have a moment.
Photo: Berk Ozkan/Anadolu Agency/Getty Images
President Obama is leaving the G20 summit in Turkey to visit another summit — the Asia-Pacific Economic Cooperation gathering in Manila. The meeting was supposed to focus on financial concerns — it is a gathering of 20 of the world's major economies — but the tragedy in Paris prompted a quick topic change. Here's a quick rundown of some of the big things that happened over the course of the weekend. 
"Why can't we take out the bastards?"
The president gave a press conference before leaving the summit on Monday; he received a lot of questions challenging the effectiveness of his ISIS strategy. "As I said from the start, it's going to take time," he responded. "What's been interesting in the aftermath of Paris, as I listen to those who suggest 'something else needs to be done,' typically the things they suggest need to be done are things we are already doing."
He added, "The one exception is there have been a few who have suggested that we should put large numbers of U.S. troops on the ground. It is not just my view, but the view of my closest military and civilian advisers, that that would be a mistake." He added that his administration had no plans to do anything that only intends to, "in the abstract, make America look tough … or make me look tough." After receiving a few questions on this topic — ones that visibly frustrated Obama — a CNN reporter asked him, "Why can't we take out the bastards?"
Obama responded that he had "just spent the last three questions answering that very question, so I don't know what more you want me to add."
Obviously, not everyone agrees with Obama on the effectiveness of his ISIS strategy — people have been debating the administration over it since it was first articulated. François Hollande is asking the French Parliament to extend the state of emergency by three months and has already approved "massive" air strikes against ISIS targets in Syria. "No barbarians will prevent us from living how we have decided to live," he said in a speech at the Palace of Versailles on Monday. "To live fully. Terrorism will never destroy the republic, because the republic will destroy terrorism."
"We must do more," he added. "Syria has become the largest factory of terrorists the world has ever known."
Mitt Romney expressed his disapproval of the U.S.'s current ISIS policy on the Today show. "It's very obvious that his tactics there have not worked," the former presidential candidate said on Monday morning. "It's time to change that course, secure the safety of our homeland, and preserve our democratic values. Now is the time, not merely to contain the Islamic State, but to eradicate it once and for all." Many of the current batch of Republican presidential candidates have also blasted the existing strategy against ISIS. 
There are Democrats worried that the U.S. isn't doing enough, too; Senator Dianne Feinstein told MSNBC Monday morning, "I read the intelligence faithfully. ISIL is not contained. ISIL is expanding. … Candidly, I don't think bombing runs alone, we have done about 8,000 now, can really make a difference. So we're going to have to look at some new themes and I think we will have to listen very carefully to our military people and ask for the kind of precise military strategy and tactics that might be able to really contain ISIL and defeat it."
Obama says plans to refuse refugees are "shameful."
While Obama was abroad, many governors began putting out statements saying they would not allow any Syrian refugees to be resettled in their states — something they do not legally have the power to do, per ThinkProgress. The decisions were partly in response to news that one of the attackers may have sneaked into France as a refugee. Other lawmakers have been saying for a while that a religious test should be offered to make sure that only Christian refugees are allowed in the country. The president called this response "shameful." 
"Slamming the door in their faces would be a betrayal of our values," he said. On Sunday, Deputy National Security Adviser Ben Rhodes said on Meet the Press that the Obama administration has no plans to alter the decision to welcome up to 10,000 refugees to the U.S. Obama said the refugees would be allowed to come to the U.S. only after they go through "rigorous screening and security checks."
In Europe, many countries are also growing more wary about borders. Poland says it no longer plans on letting refugees into the country. If other countries drop out, it's not clear where the tens of thousands of refugees who keep arriving in Greece will go. If they end up stranded in Greece — which is still mired in an awful economic calamity — things could get even messier. 
On Sunday, German chancellor Angela Merkel said the chief worry of the assembled leaders should be dealing with those responsible for the attack, not finding new ways to block refugees from Europe. "We owe that not only to the victims but also to security in our countries and to the refugees, a large number of whom are fleeing terrorism," she said. 
Putin and Obama had an intense meeting in the hotel lobby.
The pair might not like each other much — especially since Russia started conducting air strikes to help Syrian president Bashar al-Assad — but they are still willing to hold super-important meetings in very public spaces in order to convince everyone they can go through the motions of getting along. 
Before dinner on Sunday, the Russian president and his U.S. counterpart met for at least 30 minutes in a hotel lobby, where they agreed to let the U.N. try to work out "a Syrian-led and Syrian-owned political transition" after the regime and opposition agreed to a cease-fire. All parties involved in Syria agreed that talks should start by January 1.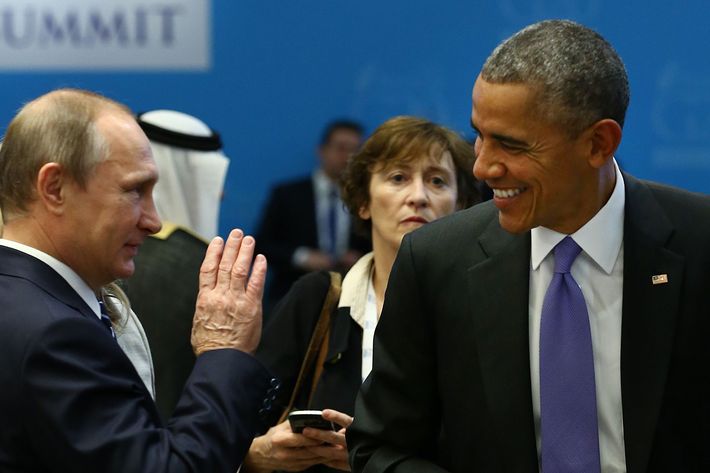 However, things weren't all shiny, happy, hunky-dory. Putin gave a press conference where he noted that the U.S. originally rebuffed Russia's help. "We offered cooperation in the anti-ISIL coalition and unfortunately our partners in the U.S. initially refused," he sniffed. "They sent us a note that said, 'We decline your proposal.' But life moves on and very quickly and often teaches us lessons. … It seems to me that everyone now is beginning to understand that we can only fight effectively together." 
He did not add that the U.S. was not interested because Russia was targeting the Syrian rebels the U.S. sought to help. We'll see if this promise of help from Russia works any better than Putin's last vow to "help" in Syria. As one Kremlin adviser told Russian news agencies, "Strategic objectives relating to the fight against the Islamic State are, in principle, very similar, but there are differences on the tactics side." 
Bonjour, Trudeau!
President Obama met with new Canadian prime minister Justin Trudeau for the first time this weekend. According to the Toronto Star, the conversation was "warm," and Obama was already calling his upstairs neighbor by his first name by the end of it. The Star adds, "Obama asked Trudeau what he planned to do first and the prime minister said cut middle-class taxes. Obama laughed and said that sounds 'good,' the spokesperson said."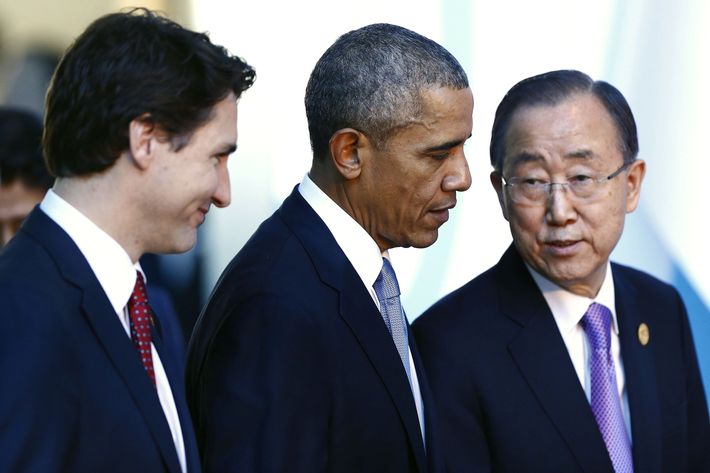 Leaders promise to do a better job sharing their secret spy stuff.
The Pentagon promised to share more intelligence with the French military this weekend, and much of the EU wants to do the same with its many member states. European officials have been reticent to exchange information like passenger records with neighbors, but that policy may change in the near future. These new calls for a widespread foreign policy of "sharing is caring" was accompanied by many leaders talking about how all Western countries are in this together. "We have been hit together, we will respond together," said Minister of State for European Affairs Harlem Desir. "The understanding gradually comes that we can only fight efficiently if we do it together," said Putin. Merkel added, "We here at the G20 summit are sending a resolute signal that we are stronger than any form of terrorism."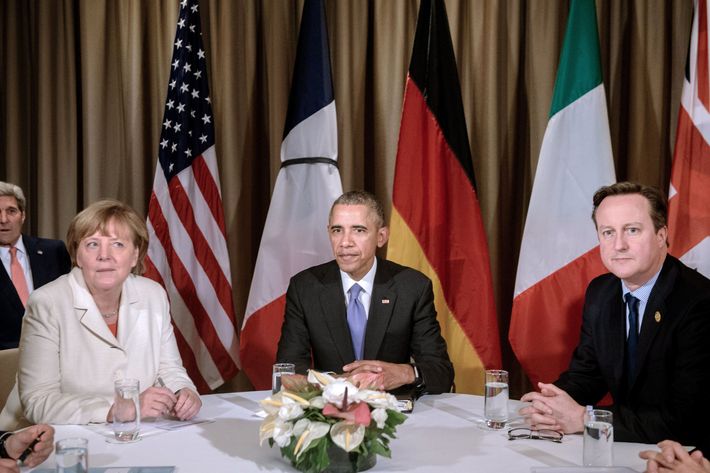 And now we take an intermission for a cat parade.
There was at least one moment at the G20 summit that was not serious and had no chance to ever end up in a history book. 
Yep. Three cat diplomats briefly took over the stage in Antalya. Not much happened during the brief and strange summit crash, but it did have the honor of inspiring this delightfully austere report from the BBC. 

Oh, and don't forget climate change. 
The U.N. climate talks in Paris will go on as planned in a few weeks, despite the security fears. French foreign minister Laurent Fabius said that the event "will be held with enhanced security measures, but this is an absolutely indispensable action against climate change." One thing that might be different: The topic of how climate influences foreign policy will likely be raised far more than it would have been a week ago. It isn't clear how the city will deal with the thousands of protesters and activists planning to descend on the city — apparently many of the "concerts and festivities" planned around the event have already been canceled.
Several climate experts told Politico that they are confident the current upheaval will make nations more likely to work together and reach an agreement. However, it is also likely that the upheaval — and the fact that a presidential election is scheduled to take place in less than a year — will guarantee that the negotiations are mercilessly ridiculed by Obama's critics here in the States.