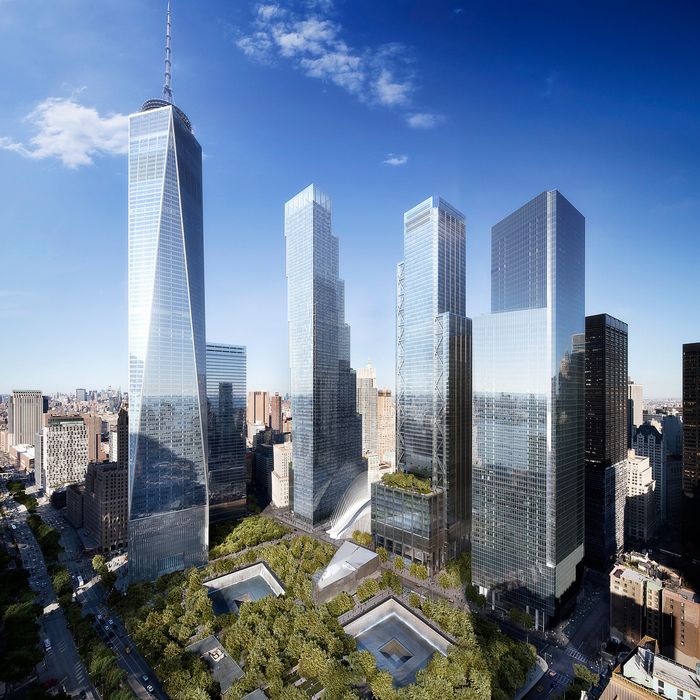 It'll be down there. That much we know.
Photo: Rex
If you look down from an east-facing window in One World Trade, you see a tenacious patch of nothingness amid the new construction. That's the future site of the World Trade Center Performing Arts Center (WTC-PAC), and also a testimonial to a history of mistakes, reversals, and fanciful ideas. This was the venue that was supposed to house the Joyce Theater, or maybe New York City Opera, or the Drawing Center, in a $400 million building designed by Frank Gehry, which was supposed to have been finished years ago. Now, a new flurry of press releases appears to bring the project one step closer to completion — in 2019, if promises are to be believed, which they're not. We still don't know what WTC-PAC will be or do, why we need it, or where all the money will come from ($99 million from the Lower Manhattan Development Corporation, the rest from "private sources"). But we have been told the size of the theoretical budget: $200 million, which will likely be dwarfed by overruns. And most flashily, we now know the name of the architectural firm that will design the redo: REX, led by former Rem Koolhaas partner Joshua Prince-Ramus.
That's good news, but it suggests that the still-amorphous institution, led by board chairman John Zuccotti and president-director Maggie Boepple, is forming itself backward, with the design preceding the assignment. The news comes as another vaguely defined institution, the Culture Shed, is under construction at Hudson Yards. We don't need to worry about overload — New York can absorb plenty of large-scale cultural initiatives. But if you're going to hire an architect, raise hundreds of millions of dollars, and ask the public to trust that this time you've got it right, it would be nice to know that the board has a clear and specific vision. The design process starts now. Let's hope the clients are a step or two ahead.