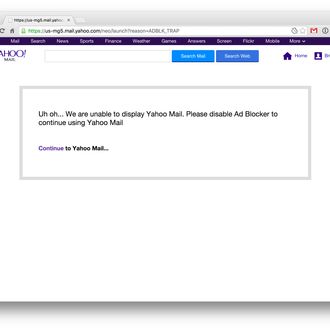 Over on the Adblock forums some users are reporting that, upon logging into Yahoo Mail earlier today, they were greeted with the above message, asking them to disable their ad blockers. If Yahoo decided to expand this effort, it would be an escalation of the growing tension between ad blockers and the companies that depend on ads to survive.
As Digiday points out, this tactic is also becoming increasingly popular among media companies. A growing number of websites have developed tactics specifically to reach out to users, replacing blocked ads with requests for users to white-list them (allow ads on certain domains) or subscribe. But media sites, which display their own content, are different from services like Yahoo Mail, which function as a third-party go-between. The idea of forced disabling of an ad blocker is different and less palatable if, for example, you're trying to access a personal email from Grandma.
The issue does not appear to be a glitch, as part of the block's URL structure includes the explicit string "reason=ADBLK_TRAP." I was able to visit the error page, but was unable to replicate the actual block on Chrome and Firefox running Adblock Plus. I logged in without a hitch.