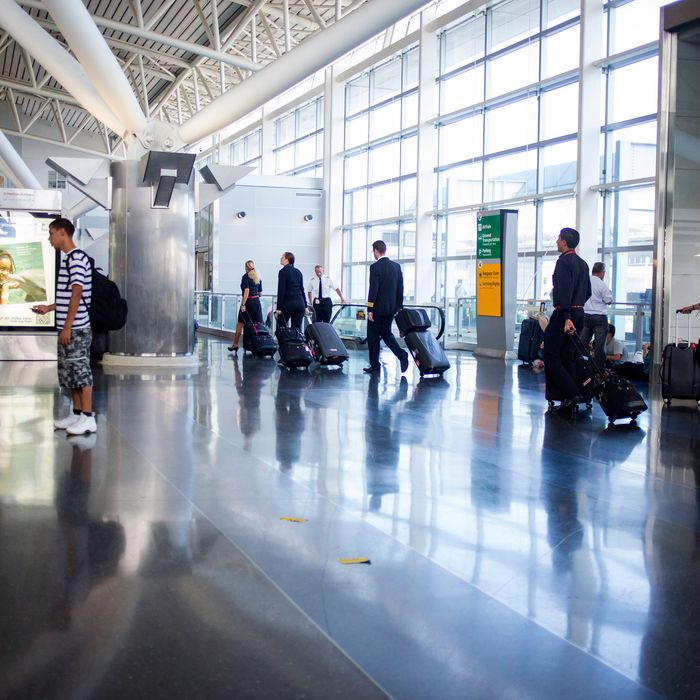 JFK Airport.
Photo: Eric Thayer/Getty Images
A weeklong series of ideas for improving urban life.
Snarled in traffic, wrecked by delays, packed with Black Friday–esque crowds, New York City airports are not especially user-friendly. Vice-President Joe Biden famously quipped that La Guardia feels like "it's in some third world country.'" (Now Governor Cuomo says a $4 billion renovation is coming to LGA by 2021. Meanwhile, JFK is getting a pet terminal with a large animal departure lounge and pet massage therapy — finally.)
Daily Intelligencer reached out to airline pilot and Cockpit Confidential author Patrick Smith for his suggestions for how to hack the New York airports. There are the classic tricks: Check in exactly 24 hours before your flight to get a good seat; go on the airline's website to find out if you have outlets and Wi-Fi on your plane; use a mobile boarding pass; go left at TSA because most people go right; don't bother taking liquids out of your carry-on; keep your laptop in an easily accessible place; bring a backup charger; pick up friends at departures instead of arrivals; and wear socks to avoid contracting foot fungus from the metal detector.

But Smith suggests the ultimate travel hack is actually managing to make your airport time enjoyable. Read on for how he does that.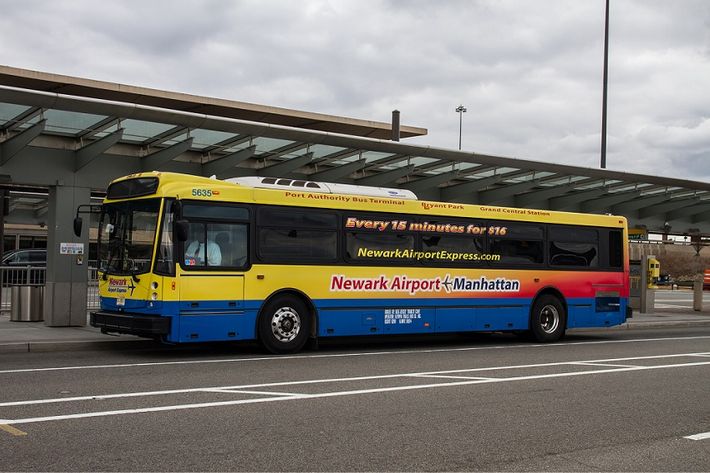 1. Take the Newark Airport Express for $16. You can find deals on flights from Newark, but a cab from New York tends to run around $80 — often wiping out the savings. Instead, try the Newark Airport Express, which stops at Grand Central, Bryant Park, and Port Authority, and leaves every 15 minutes. The service runs between all of the airports.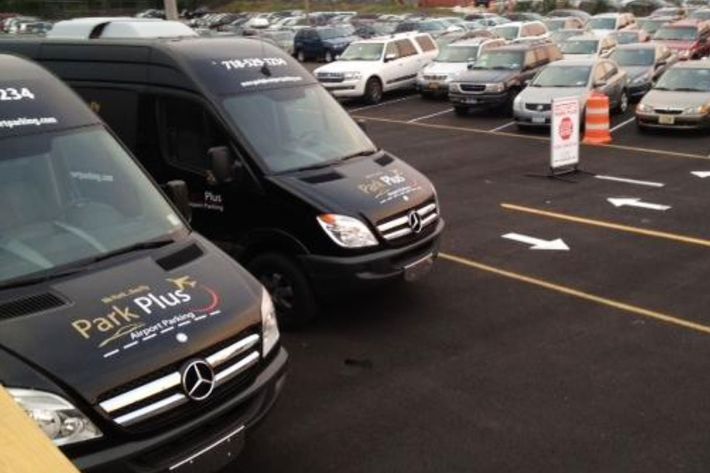 2. Let someone else move your car. If you are flying in and out of two different airports, parking company Park Plus will move your car if you fly out of JFK and into Newark, wash it, and even start it during cold months. Plus, if you are out of town for a week, it's a good way to avoid off-side parking tickets. Rates start from $6.99 a day.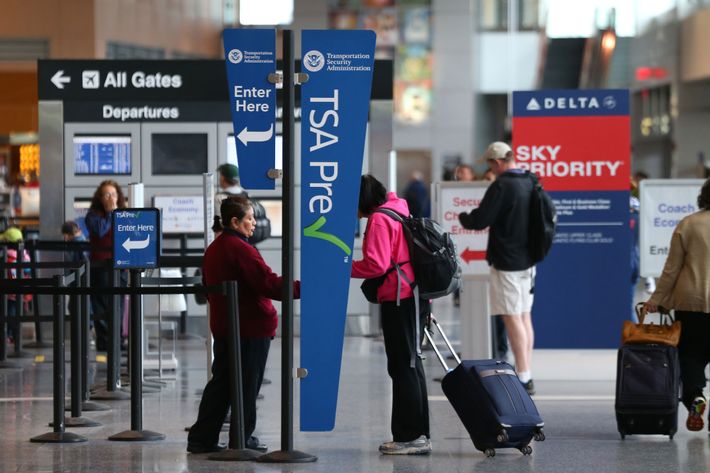 3. Global Entry, TSA Pre-Check. It can take hours to get through customs at Kennedy and Newark, but Global Entry turns the process into mere minutes. "I finally broke down and got it," Smith says. He also swears by TSA Pre-Check. For a crowdsourced option, check out the TSA app, which offers real-time updates of security lines.
4. Fly in and out in the early afternoon. Kennedy, Newark, and La Guardia are notorious for delays, so Smith recommends picking your flight times accordingly. "I would much rather fly in and out of New York at 1:30 in the afternoon than 8:30 in the morning or 7:30 at night," he says.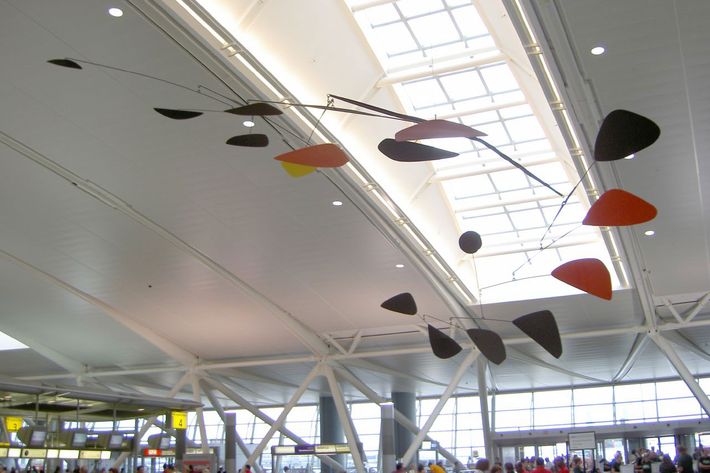 5. Stop and enjoy the art. "In Kennedy's Terminal 4 there's an actual Alexander Calder sculpture, and most people just walk underneath it," Smith says of Calder's colorful 1957 installation. "If you look at the chaos from a different perspective, little things like this help relieve the tedium." 
6. Research free Wi-Fi options. The three New York airports offer only 30 minutes of free Wi-Fi. However, IT-inclined travelers have found a way around paywalls, by disguising their computers to the networks.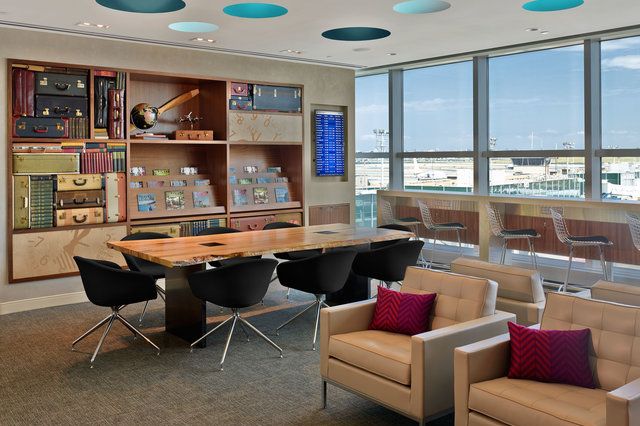 7. Open a credit card for access to airline lounges and Wi-Fi, beer, cookies and showers. "If you have access, you are crazy not to go to the lounge," Smith says. And many high-end credit cards actually offer customers this perk. The Delta Reserve Credit Card is a way into Kennedy's Sky Club Lounge, known for its impressive new outdoor patio. The Citi Prestige Card gets you into the American Airlines lounge — a welcome respite from the claustrophobic Terminal B known for delicious chocolate-chip cookies. Amex's Platinum Card includes entry to the Centurion Lounge, serving Jim Meehan–designed cocktails. And at Newark, the United MileagePlus Club Card offers access to the United Club, well regarded for the water pressure in their showers. (Day passes to many of the clubs are also sold on eBay.)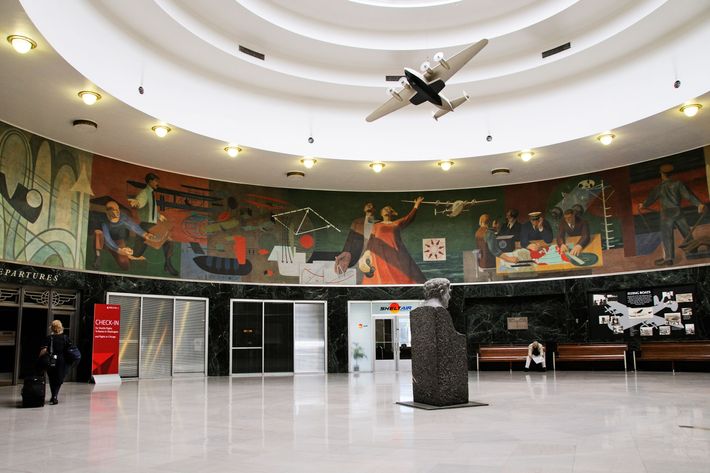 8. Hang out in La Guardia's Marine Air Terminal during a long delay. The impressive Art Deco building from 1937 was home to PanAm's sea planes, famed for the first transatlantic flight. (Now it houses the Delta Shuttle.) "The Marine Air Terminal is one of the most special places in all of commercial aviation," Smith says. He recommends getting a sandwich at the Yankee Clipper, one of the oldest non-chain airport restaurants. "It's my favorite airport restaurant in the world. It is nothing fancy, but it's simple, basic, unpretentious food in a historic building." Get there by taking the inter-terminal route A bus.
9. Slow down and take in Eero Saarinen's TWA terminal. Sure, you've probably seen it before — but it's always worth another visit. "TWA, is a hidden treasure for fans of architecture," Smith says. "It was built in a time when the jet age, and air travel was still exciting, and glamorous. The design of it is meant to evoke flight. We don't design airports this way anymore."   

10. Make an appointment to visit JetBlue's T5 farm.
The JetBlue terminal's roof deck opened earlier this year, with a pet relief area, Wi-Fi, food from local vendors, and a great view of Eero Saarinen's TWA terminal. (Soon to be a high-end hotel.) Now travelers can make an appointment to visit the vegetable garden, where chip-maker Terra will be growing potatoes that may later be served on JetBlue flights.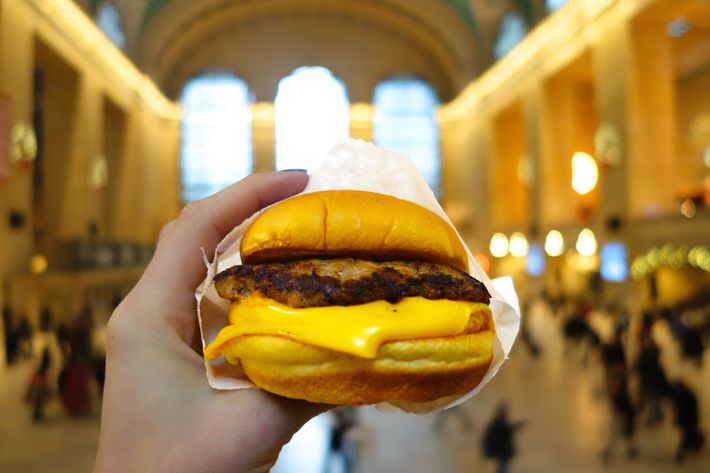 11. Get a Shake Shack breakfast sandwich.
At JFK gates B23 and B37 you'll find one of the few places to try Shake Shack's elusive take on the hangover classic. Niman ranch eggs, applewood-smoked bacon, and American cheese on a potato bun, served daily until 10:30, alongside Stumptown coffee.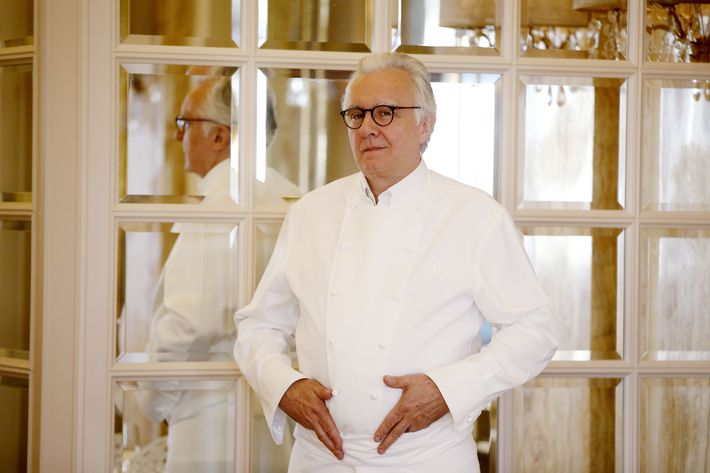 12. See what a celebrity chef can do with TSA-approved ingredients at Newark.
As part of a $120 million Terminal C renovation, Newark brass has invited a slew of A-list chefs to reimagine airport dining. Alain Ducasse brings escargot with his French bistro Saison. Mario Carbone offers Parm-like sandwiches at Casciano Italian Specialties and handmade pastas at Abruzzo Italian Steakhouse. Taïm's Einat Admony designed the health-conscious Flora Café menu, and Alex Guarnaschelli does French standards at Riviera. Coming soon: Alex Stupak tacos.