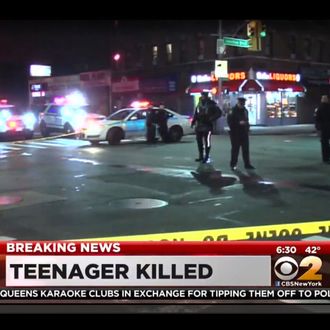 Jaremello Ovidio was heading home after a funeral late Tuesday night when a black Toyota Camry struck him as he walked through an intersection at Northern and Junction boulevards in Jackson Heights, Queens. The car kept going, and Ovidio was soon pronounced dead at Elmhurst Hospital. 
According to NBC News, nine accidents at that intersection have left people injured this year, although this is the first time someone has died. Two years ago, a 3-year-old was killed after being run over by a drunk driver at the same intersection. More than 20 pedestrians have been killed in New York City since Halloween. Police are looking for the Camry and its driver, and assume the vehicle probably is a bit damaged in the front.
DNAinfo reports that Ovidio went to St. John's Prep in Astoria. His neighbor and former tutor told DNAinfo, "He was amazing, smart," and super close to his grandmother. He was her only grandson.