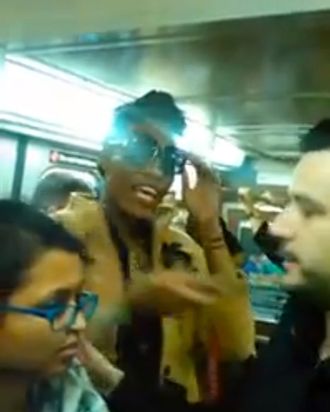 See something, run far away.
Last Friday evening, a woman threatened and slashed two riders on a southbound A train after she apparently got irritated they were trying to hold onto the pole she was leaning on. A pretty clear violation of subway etiquette on the attacker's part, as well as the incident, was caught on-camera. The video shows the woman removing a sharp object from her purse and using her teeth to open it. She says out loud, in the direction of two riders — who have, by now, moved away from the woman — "Do you want a clue of what's going to happen when I get off this train? I'm going to cut you and I'm going to get away with it."
"Now if you say one more word, this is going to end very badly," she warns before approaching the two people. She points the object in the face of a man, and his female companion, and demands they stop talking. The woman apparently knows she's being recorded — she blows a kiss and tells the cameraperson to "get her good side." The woman backs away for a brief moment but then springs forward and jabs the object in the face of the man. He and his female friend push her back, and eventually another rider helps restrain the attacker.
Here's a full video of the altercation, via Gothamist, so you can be reminded that sometimes a delayed subway isn't the worst thing about the MTA:
Both victims received cuts to their faces, but the wounds weren't serious and each turned down medical attention, according to the NYPD. The assailant got off at Nostrand Avenue, and the police are still searching for her.