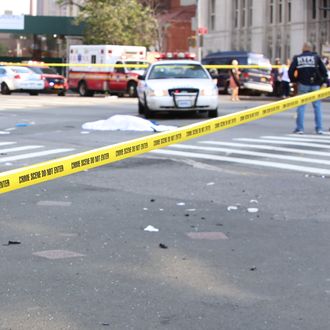 There have been a total of 38,000 hit-and-run crashes in New York City since January 2015.
Photo: Andy Katz/Demotix/Corbis
New York City has had so many hit-and-runs this year City Council members are considering new legislation to increase fines for offenders.
An investigation led by Councilman Jimmy Van Bramer revealed that there have been 38,000 total hit-and-run crashes in the city since the beginning of 2015, the Daily News reports. Roughly 34,000 of them were minor accidents, involving dents and sideswipes.
But approximately 4,000 cases involved "personal injury," NYPD Inspector Dennis Fulton told WNYC, which means that in 4,000 separate instances, a driver has injured or killed another person and left the scene.
"That's a staggering number," Van Bramer told WNYC, adding that hit-and-runs are "perhaps the most heinous of acts."
Leaving the scene of an accident is already a crime, but Van Bramer is sponsoring a bill that will increase fines for repeat hit-and-run offenders. "We have to make sure the worst of the worst face real consequences for repeat offenses," he told the Daily News.
Out of the 38,000 hit-and-run incidents this year, only 480 drivers faced criminal charges, the Daily News reports, and in the 48 crashes where "catastrophic" injuries were reported, only 28 drivers were arrested.
Currently, most hit-and-runs go completely un-investigated, and Councilman Jimmy Vacca told Streetsblog he was frustrated with the NYPD's failure to respond and track the incidents. "Is this the only area where we have these gaps? We are told that crime is down, we are told that there is reporting accuracy, yet today there was a gap that was identified," Vacca said.
The bill comes after several recent incidents in the city, including a Brooklyn hit-and-run involving an MTA bus striking and killing a 70-year-old woman in early November. In the same month, a man was seriously injured in a hit-and-run outside a McDonald's in Queens.