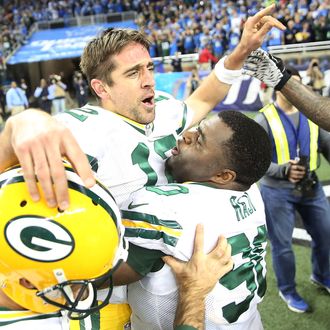 Aaron Rodgers celebrates after his miracle touchdown pass against Detroit.
Photo: Leon Halip/Getty Images
Last night, the Packers stunned the Lions by rallying back from a late 23–14 deficit and winning on a 61-yard Aaron Rodgers Hail Mary touchdown pass to Richard Rodgers on the final play of the game. The heave, which gave Green Bay a 27–23 victory, took place on an un-timed down after a controversial Detroit face-mask penalty on what otherwise would have been the final play of the game. Here, five incredible things about the miracle finish in Detroit.
1. Aaron Rodgers had never thrown a successful Hail Mary before.
As accomplished as he is, Rodgers had never before completed a Hail Mary pass with the Packers, or while with the University of California, or while playing at Butte Community College, or during his days with the Chico Jaguars midget team, for that matter.
2. Richard Rodgers's father was part of one of the greatest college football finishes ever.
Richard Rodgers came down with the ball last night in one of the most exciting finishes in league history. His father, Richard Sr., meanwhile, threw two of the five laterals during the famous 1982 "Stanford band" play, in which his Cal Bears returned a kickoff for a game-winning touchdown that was so improbable the Stanford pep band had already spilled onto the field, thinking the game was over.
3. Richard Rodgers's job on the play wasn't really to catch the ball.
The battle to catch a pass like this is something of a free-for-all, but there's a plan amid the chaos. In this case, Rodgers's job was to box out a defender and wait for a potential tip while Davante Adams jumped to try and grab the ball. "But once I saw it in the air I realized I could get it," he said afterward. "So I just went for it."
4. It was a historically wild finish.
Via Elias, it was the second-longest game-winning touchdown on a run or a pass from scrimmage with time expired in league history. And not to take anything away from the 1960 Lions, but that record play — a 65-yard touchdown pass in which Jim Gibbons ran the ball in from the 35-yard line — didn't include a heave into the end zone like we saw last night.
5. The Lions weren't even expecting a Hail Mary.
On the final play, the Lions opted not to use six-foot-five receiver Calvin Johnson to defend against the Hail Mary, and their overall coverage on the play drew criticism as well.
Detroit coach Jim Caldwell said after the game that despite Aaron Rodgers's big arm — his pass traveled some 70 yards in the air — they were concerned about a shorter pass and a series of laterals.