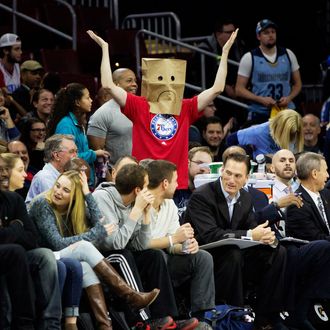 You'd wear a bag on head too if your favorite team was on pace to win 2.7 games all year.
Photo: Mitchell Leff/Getty Images
Much has been made about the Philadelphia 76ers and their "process" —  GM Sam Hinkie's long-term plan that relies heavily on analytics and stockpiling draft picks, at the expense of winning in the present. Indeed, the product on the court has been pretty awful this year, and with their loss to the Grizzlies last night, the Sixers became the first team in NBA history to lose 29 of their first 30 games. Or to put it another way, Philly is on pace to win 2.7 games this season — fewer than Golden State has won in the average week so far this year.
The Sixers have been lousy for a while now: They've won just one playoff series since 2003, and they've tallied fewer than 20 victories in each of the last two seasons. They began the 2014–15 campaign by dropping their first 17 contests, and the previous year, they tied a record by losing 26 consecutive games in a single season. So far this year, their only victory has come against the Lakers, themselves a last-place team.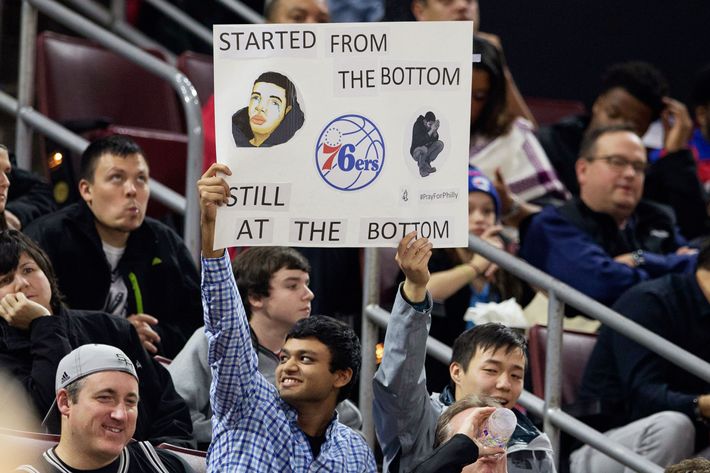 The situation has been so dire that other owners have reportedly been lobbying the league to step in for more than a year. Specifically, owners were concerned about the sagging revenues of the 76ers, a big-market team, and the impact it was having on the league's overall economic picture. That lobbying effort, according to ESPN, helped lead to the hiring of respected former Suns owner Jerry Colangelo to a senior position earlier this month. Said Colangelo upon his hire: "What I see here is there's a lot that needs to be done."