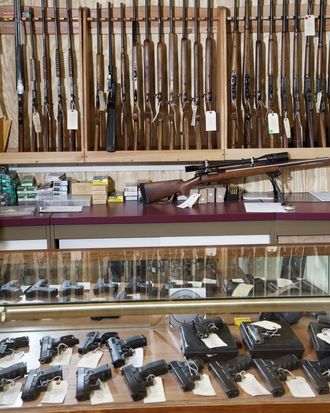 It's beginning to look a lot like Christmas
Photo: Getty Images
Good news for anyone who thinks Americans own too few guns: The FBI processed more background checks for firearms purchases on Black Friday than on any single day since they began conducting them back in 1998.
The feds processed a record 185,345 background checks the day after Thanksgiving, the Associated Press reports. That figure topped the previous record, which was set on December 21, 2012. That date was a week after the Sandy Hook massacre and American gun enthusiasts actually seemed to think their government might take some action to restrict firearm access. This year, it appears Americans' only inspiration for stockpiling weapons was spending a full day with their families. 
As of 2013, there were 357 million civilian firearms in America – 40 million more than there were civilians. With Black Friday's big sale, we may never have to worry about our grandchildren growing up in a country where there are more people than guns.