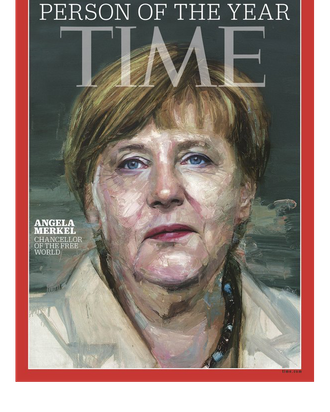 Cover art by Colin Davidson.
Photo: Time Magazine
German chancellor Angela Merkel has spent the past year wrestling with Europe's manifold crises, and all she got was this lousy magazine cover. It's official: Merkel is Time's Person of the Year, besting the runners-up, ISIS leader Abu Bakr al-Baghdadi and GOP presidential candidate Donald Trump, denying America the super great, luxurious cover (he thinks) it deserves. 
Time called Merkel the "Chancellor of the Free World," anointing her the "de facto leader of Europe" for steering the continent through the euro crisis and Greece's economic disaster, and now for her decision to open up Germany to hundreds of thousands of refugees who are fleeing conflicts in the Middle East.
Black Lives Matter activists and Iranian president Hassan Rouhani rounded out the top five. Merkel joins recent winners — last year's Ebola fighters and 2013's Pope Francis — in snagging a cover. She's also the first individual woman to earn the distinction in almost three decades; the Philippine president Corazon C. Aquino won in 1986.