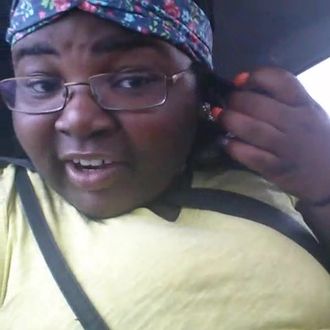 Despite what you might think, the phrase "on fleek" — used to sell everything from Doritos to Hefty Bags — didn't pop up online ex nihilo, waiting to be put to use by big corporations trying to look hip. It was coined by Kayla Newman in a Vine that went viral in the middle of last year. And even as brands profit from her coinage, Newman hasn't seen a dime.
In the most recent issue of The Fader, Doreen St. Felix lays out how the current copyright system in America — ill-suited for the modern web — allows corporations to profit from, and in some cases suppress, the viral content of black teens, "members of a burgeoning Generation Z who experiment with the iPhone gaze."
"I gave the world a word," Newman told The Fader. "I can't explain the feeling. At the moment I haven't gotten any endorsements or received any payment. I feel that I should be compensated." A corporation that coined a new phrase would have moved to trademark it immediately in order to reap the benefits. Instead, those same companies used Newman's fleek to sell pancakes and Doritos Locos tacos.
Newman's not the only young creative who's found herself taken advantage of by much more powerful and resourceful businesses. In another case, 20-year-old choreographer Denzel Meechie's popular YouTube channel often heaped attention onto the music he danced to. Artists would recruit him to dance to their songs as a way of advertising. The labels under which those artists worked, however, had a different idea: His channel was shut down after too many copyright violations.
The crux of this whole thing is that copyright law protects specific creative expressions of an idea, but not the idea itself. In an age where that specific work can be turned into a meme — quite literally "an idea, behavior, style, or usage that spreads from person to person within a culture" — creators like the black teens at the forefront of viral media have few legal safeguards, and the same platforms that give them audiences they might not otherwise have access to become instruments of much richer people who are able to profit. The entire piece is worth reading over at The Fader.