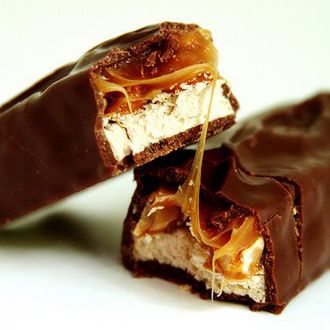 If you see this on the subway platform, be careful.
Photo: Snickers
A man with a pink suitcase hit a Brooklyn artist waiting for the Q train with a half-eaten chocolate bar on Tuesday night, according to Gothamist. Ian Sklarsky later said, per DNAinfo, that "he doesn't remember if the chocolate bar was a Snickers bar or a Milky Way." After being attacked, the artist yelled, "This guy just punched me in the face with a chocolate bar, he punched me, be careful." Eliexer Reyes, who has a history of punching things, was later arrested. Sklarsky told Gothamist he still loves New York and that his night was otherwise wonderful because of an event he attended at the W Hotel. "I saw Bernadette Peters. It was wonderful."
This is not the first time that chocolate has been used as a weapon.