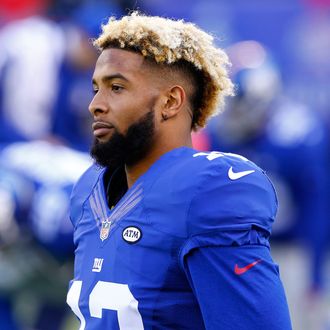 Odell Beckham Jr. says he hears gay slurs from opposing players on a weekly basis.
Photo: Michael Reaves/Getty Images
Among the many allegations stemming from Sunday's Giants-Panthers game — the one in which Odell Beckham Jr. lost his cool and was called for three personal fouls — was that the Panthers directed a gay slur at the standout wide receiver before kick-off. And yesterday, Beckham said that he's subject to that kind of thing from opposing players on a weekly basis.
Via the Daily News, Beckham told Michael Irvin in a phone call that the Panthers were indeed trash-talking him with gay slurs, and that they'd taunted him with a baseball bat, as had been previously reported (and denied by Carolina). But Beckham also told Irvin that such slurs aren't new. The Cowboys Hall of Famer told the News that Beckham's "dealing with it every week." Says Irvin, now an NFL Network analyst:
He deals with it a lot. For some reason, everybody goes after him with gay slurs. He's a different kind of dude. He has the hairdo out, he's not the big muscular kind of dude. The ladies all love him. He's a star. I wonder why people are going in that direction. It blows my mind. I told him he can't let stuff that people say get to you.
Panthers coach Ron Rivera has denied his his team directed homophobic slurs at Beckham. "This is an important social issue," Rivera said yesterday, in reference to the slur allegations. "If there's something out there that's factual, there's truth, there's hard evidence, please present it to us as well, so we can react accordingly. We don't tolerate that here. We don't. If there is some truth to it we will react to it and handle it appropriately. Until there is, there's nothing for me to do."