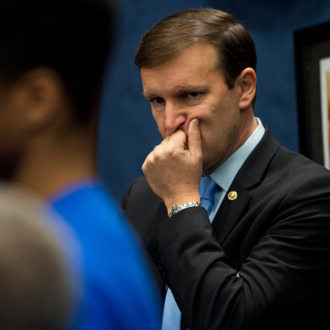 Sen. Chris Murphy listens during the House and Senate Democrats' event on Dec. 10.
Photo: Bill Clark/CQ-Roll Call
Schools in Newtown, Connecticut, are open on December 14 for the first time since the shooting at Sandy Hook Elementary in 2012. 
The kids who survived the shooting, which left 20 children and six teachers dead, are now in fourth grade. Elementary classes don't plan on mentioning the attack at all today; there will be a moment of silence at the middle and high schools. "We really don't know what the reaction in the schools will be," one local official told the Hartford Courant. "We're in unchartered territory."
About 2,800 miles away, a memorial filled with wilting flowers and messages of remembrance still stands outside the Inland Regional Center in San Bernardino, California, where 14 people were fatally shot only two weeks ago. It was the deadliest mass shooting since Newtown, and the 355th mass shooting this year. 
According to NBC News, 554 children under the age of 12 have died from gunshot wounds since the Newtown massacre.
A mom of one of the first-graders killed in Newtown, Nicole Hockley, told the Huffington Post, "It doesn't feel like it's been three years; yet at the same time, it feels like it's been a hundred years. I don't know how to articulate it. It saddens us that there are more and more shootings, more families having to deal with this trauma, and loss and heartbreak, and knowing that a lot of these are preventable — as ours was."
Last week, gun-control activists gathered on Capitol Hill for an annual Newtown vigil. Connecticut Senator Chris Murphy, one of the legislators pushing hardest for measures like expanding federal background checks, said, "We remember the little ones, and marvel at what they were, and what they could have become. We recall with awe those brave educators, who tried to protect them, and perished in the effort. And we never stop searching for answers. Why did it happen? Did it have to happen? What can we do, now, to make sure it never happens again?"
Similar events have been held across the country over the past few days.
Congress has considered gun-control measures several times in the past few years; none of the legislation passed. In the ongoing budget negotiations this week, Democrats are trying to end a provision that has banned gun-violence research for the past 19 years. Several states are also considering new gun measures. In Connecticut, Governor Dannel Malloy plans on signing an executive order that would ban people on the no-fly list in the state from purchasing guns. On Monday morning, New York Governor Andrew Cuomo said on MSNBC that it was "madness" to allow someone on the no-fly list to purchase a firearm. He added that he didn't "know, frankly, that a state-by-state response is going to work. This is going to have to be a national response."
Those against the no-fly gun ban say that the list is already so flawed that it would likely prevent many innocent people from having access to a constitutional right.
The White House is also working on an executive action that would expand background checks, which is supposed to be finalized in the not-too-distant future. Such action — like many of President Obama's recent executive actions — would probably court a legal rejoinder. 
Those wary of gun restrictions and those who wish to legislate them have been even more active in the years since Sandy Hook. According to the New York Daily News, the four biggest gun manufacturers have made $632 million. The story quotes the 2014 Sturm-Ruger annual report, which notes that the"current political environment … favorably impacted the entire firearms industry."
This weekend, a high-profile pro-gun rally was held at the University of Texas at Austin. Not many people showed up — according to the New York Times, demonstrators were outnumbered by reporters and counter-demonstrators — but those who did carried assault-style weapons in support of a campus open-carry law that passed earlier this year. After the march, the demonstrators staged a fake mass shooting off-campus, complete with ketchupy fake blood.
"The gun-free zones are killing zones," one man carrying an American flag and an AR-15 said, according to the Guardian. Counter-protesters started chanting, "Our history is not a joke" — a reference to the 1966 shooting on the University of Texas at Austin shooting that left 13 people dead. Other protesters were there to take place in a mass farting planned to criticize the fake shooting. UT alum Andrew Dobbs told the Houston Chronicle, "That laughing in the face of fear is a courageous act and toting a gun around everywhere you go, maybe not so much. When you come to my community, to the university that I love, and you threaten the lives of my friends, what I have to say is, I'm going to fart in your face!"