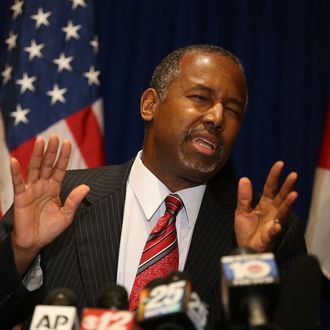 It's impossible to find good help these days.
Photo: Joe Raedle/2015 Getty Images
Ben Carson spent Wednesday afternoon in his basement, complaining to reporters about his hired help.
In interviews conducted at his Maryland home, the fading presidential candidate told the Associated Press and the Washington Post that he was dissatisfied with the state of his campaign, and that "personnel changes" may be coming.
For a brief moment in early November, the retired neurosurgeon looked like he just might become the drowsiest president in American history. Carson crept ahead of Donald Trump for first place in national primary polls. Trump found Carson's rise threatening enough to start branding his rival a pseudo child molester. But in the ensuing weeks, some combination of heightened press scrutiny, increased concern with national security in the wake of the Paris attacks, and the candidate's inability to convincingly differentiate between Hamas and hummus sent his poll numbers into steady decline.
On Wednesday, Carson blamed his campaign's struggles on his overpriced, ineffective staffers.
"It's one of the things we're looking at: making sure everyone's salary is in line with the standard," Carson told the Washington Post. The paper writes that Carson went on to "grumble" about how some of his aides are paid "five percent above average."
At the end of September, Carson had raised $31 million, more than any of his Republican rivals. But his campaign burned through that money at a manic pace, while plowing most of the funds back into fund-raising efforts instead of field operations or advertising. That bizarre budgeting led some to wonder if Carson 2016 wasn't more Ponzi scheme than presidential campaign.
But in Wednesday's interviews, Carson sounded genuinely concerned with his campaign's spending choices, telling the AP, "Yes, we've had enormous fundraising, but that requires that you be efficient in the way you utilize the funds."
Carson also emphasized the need to counter the idea that he lacks command of foreign-policy — a perception that was reinforced when one of his own advisers publicly described him as hopelessly ignorant about the Middle East.
"The issue that has been put out is that because you are soft-spoken and nice you can't possibly be tough, you can't have the strength to deal with the incredible security problems we now face," Carson told the AP, adding that this interpretation "is not true, but I'm now talking about it."
Carson appears to have told the national media that he's contemplating firing some of his aides before ever mentioning the prospect to the aides themselves.
Asked whether he was demoting his campaign manager Barry Bennett, Carson told the Post that changes could come as soon as tomorrow. When the AP contacted Bennett for comment, he replied, "I'm getting ready to have a conversation with him. Why don't I have that conversation and call you back."
Bennett later told reporters that there would be no staff shake-up, and that Carson was only "talking strategy not personnel" – a claim that can't be squared with the candidate's public statements.