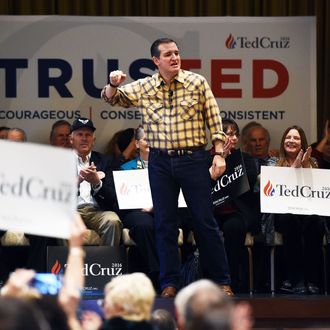 Photo: Ethan Miller/Getty Images
Ted Cruz was once the GOP Establishment's top internal enemy. The Texas senator built a national following by forcing his party into doomed crusades against the reality of divided government, and then, in the face of inevitable defeat, disparaging his senior colleagues as weak-kneed RINOs. As of last year, the idea that the GOP would name the Senate's most-hated man as its standard-bearer was almost unthinkable.
And then a billionaire reality star decided to spend his late-life crisis surfing a wave of xenophobia to 1600 Pennsylvania Avenue. Six months later, Trump has taken a commanding lead in the Republican primary race — tying the party's brand to "Muslim bans" and the act of "schlonging," in the process.
Now Ted Cruz looks like his party's consensus candidate, uniquely positioned to bridge the divide between the Trumpist insurrection and the country-club set. And that isn't merely the assessment of a few political pundits – it's also the view of many gambling addicts.
At the betting market site PredictIt, Florida Senator Marco Rubio has been favored to win the Republican nomination since early October. Or he was, until yesterday, when Cruz shot out ahead of him. As of 2:30 p.m. on Wednesday, Cruz was trading at 36 cents per share on PredictIt, Rubio at 34 cents. The party's polling favorite, Donald Trump, has a comfortable hold on third place at 27 cents, more than double the price of his closest competitor, some guy named "Jeb!"
Still, betting-market-aggregator Predictwise considers Rubio significantly more likely to win the nod, giving him a 35 percent chance to Cruz's 27 and Trump's 22. But even a second-place showing in the betting markets is impressive. The markets have long treated both Cruz and Trump with marked skepticism. After September's GOP debate, Jeb Bush held a commanding lead over both candidates in such markets, despite far worse poll numbers. Back then, gamblers trusted that the Republican Establishment's clear preference for a Bush victory would prove decisive.
Now, even money says this is a different kind of election – one in which "the party" doesn't decide.