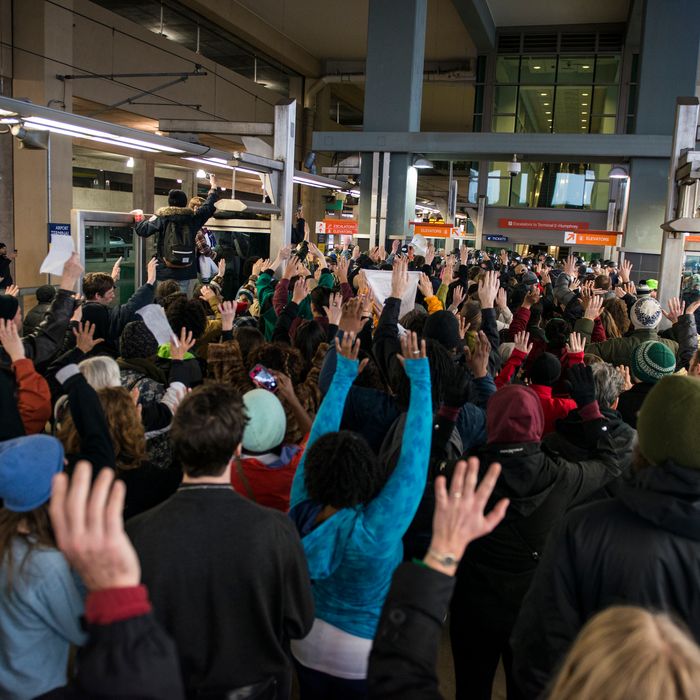 Protestors chant "Hands up, don't shoot," at the Minneapolis-St. Paul International Airport.
Photo: Stephen Maturen/2015 Getty Images
Protesters shut down the Mall of America, a light-rail line, and the entrance to Minneapolis-St. Paul International Airport on Wednesday as part of a Black Lives Matter rally. The demonstration caused flight delays and disrupted one of the busiest shopping days of the year, but no injuries or property damage were reported. According to the AP, about 15 people were arrested, mostly for trespassing or obstruction of justice.
The protesters aimed to draw attention to the death of Jamar Clark, a 24-year-old black man who was shot by Minneapolis police responding to a domestic-assault call last month. Federal and state investigators are looking into the shooting but video footage of the incident has not been released.
About 500 demonstrators gathered at the Mall of America in the early afternoon, where they were met by 200 police officers, including many in riot gear. They were ushered into the mall's rotunda, and electronic signs at the mall instructed protesters to suspend their unauthorized rally and leave the premises. A siren announced that the mall was closed and instructed shoppers to "seek shelter," prompting many stores to close their gates.
Next, dozens of protesters took the light-rail train from the mall to the airport. Officials say they blocked access to one of two terminals as well as roads leading to the airport, leading to two security checkpoints being shut down for about 45 minutes. "The mall was a decoy," said protest organizer Miski Noor. "I think it was really effective."
The mall had tried to obtain a court order blocking the protest, but a judge said this week that she could only ban three organizers from attending the rally. Susan Gaertner, an attorney representing the mall, said it does not allow any demonstrations on the property. "You have to ask, 'Would you want us to permit a demonstration by white supremacists?' Of course not. The Mall of America is consistent: no demonstrations, no matter how righteous the cause."