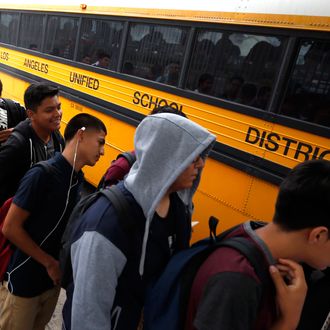 Photo: Mark Boster/Los Angeles Times
A bomb threat received by a Los Angeles Unified School District board member led officials to close every single school in the district on Tuesday morning. 
According to CBS News, Superintendent Ramon Cortines said that the email threat was "conveyed not to one school, but many schools in the district. Details talked about backpacks, other packages." All campuses are being searched, and there is a heavy police presence at schools all over the district. 
The email was routed through Frankfurt, Germany, but authorities think the threat came from somewhere far closer.
When asked about the massive response to this threat in a press conference, Cortines said that "the circumstances in neighboring San Bernardino" along with what has been happening internationally led him to act.
Students who had already arrived at school were sent home, and teachers have also been told to stay away from school grounds, according to the Los Angeles Times. The school district has more than 640,000 students and 900 schools. 
Meanwhile, NYC Police Commissioner Bill Bratton announced that they received a similar email threat on Tuesday for schools in the city — however, he is pretty sure it was just a hoax from someone who watches too much TV. 
He added that the note, written by a self-described jihadist, was filled with errors, according to the AP. For example, "Allah" was written as "allah."
California representative Brad Sherman told the Los Angeles Times, "The author claims to be an extremist Muslim who has teamed up with local jihadists." He added, to CNN, that the author also didn't sound like someone who understood Islam very well — and that he had 32 accomplices and "nerve agents." Another California representative, Adam Schiff, released a statement that said, "The preliminary assessment is that it was a hoax or something designed to disrupt school districts in large cities. The investigation is ongoing as to where the threat originated from and who was responsible." 
"That would be incredible to think that any jihadist would not spell Allah with a capital 'A,'" Bratton said. 
Bratton, who was once police chief in Los Angeles, said that the decision to close all the schools in L.A. was a "significant overreaction" — especially if they received the same intel as New York. Mayor Bill de Blasio added that schools would remain open, and that he also thought the note looked suspiciously pranklike. "Based on the information that we have," he said, "this was a very generic piece of writing sent to a number of different places simultaneously and also written in a fashion that suggests that it's not plausible, and we've come to the conclusion that we must continue to keep our school system open."
A police spokesperson told the New York Times, "After an analysis, we have determined that the emails were the exact same wording with the exception of putting in the cities' names and changing the number of people who were supposed to be participating in it. Other than that, it was a cut-and-paste job." 
Later in the day, a Wall Street Journal reporter tweeted out the email address reportedly used to send the threat to L.A. and NYC.
Cockmail says the New York Police Department has issued a subpeona for the email hosting service's account records.
As Sherman said to the Times, when delicately explaining that the email address featured a "pornographic" reference, "There isn't a person on the street who couldn't have written this … Everybody in Nebraska could have written this."
On Tuesday afternoon, Los Angeles officials held a follow-up press conference on the threat. Police Chief Charlie Beck said he "worked with the FBI to vet this as much as possible." He defended the city's decision against "irresponsible" criticism from the East Coast, saying, "We are not making decisions about the color of a car or what we are eating for dinner." Beck also said that the threat mentioned bombs, "assault rifles, and machine pistols."
Los Angeles Mayor Eric Garcetti added, "An abundance of caution is something that I think all of us who have children appreciate." He also said that everyone hoped that students would be able to return to school tomorrow.