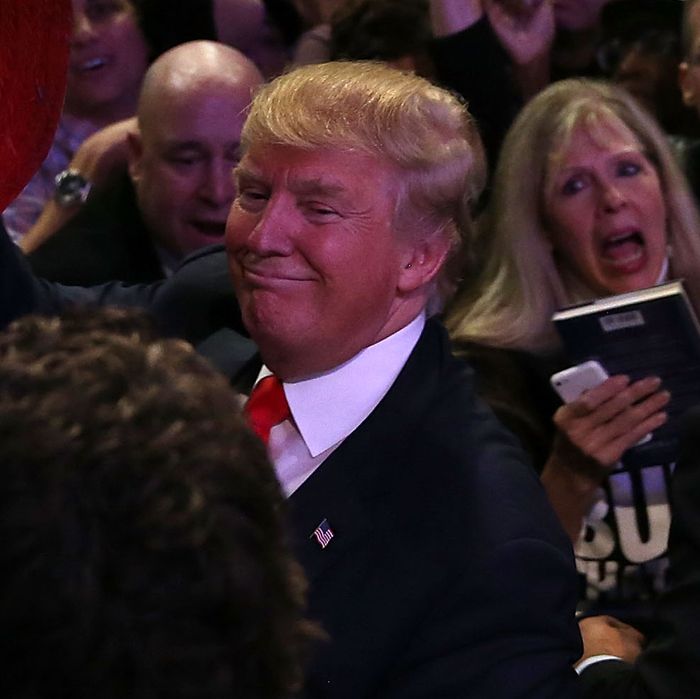 Trump holds a sombrero as he makes his way through the crowd on Monday night..
Photo: Justin Sullivan/Getty Images
Amid the uproar after Donald Trump called for banning all Muslims from entering the country, some wondered if he had finally gone too far. Subsequent polls showed most likely Republican voters agreed with him, and on Monday night Trump supporters vividly demonstrated that if anything, they don't feel Trump is going far enough.
Trump's debate-eve speech at the Westgate Las Vegas Resort and Casino was mostly unremarkable. He rambled for an hour about how political correctness is "killing us," vowed to deport Syrian refugees already settled in the U.S., and declared, "The American dream is dead, but we are going to make it bigger and better and stronger."
As Trump spoke, he was interrupted by protesters several times. The demonstrators were quickly removed as the crowd tried to drown them out by chanting "Trump," "We want Trump," or "You can't stop Trump." The candidate criticized reporters for turning their attention to the protesters.
At one point, Trump had Jamiel Shaw, a supporter whose son was killed by an undocumented immigrant gang member, take the stage. "We don't know what's going on and that's why we need Donald Trump," Shaw said. "He feels what we feel. He's just like us." Protester Ender Austin III shouted, "That's why we need gun control! If there were no guns he wouldn't have got killed."
Austin, a Pentecostal minister affiliated with the Black Lives Matter movement, was quickly surrounded by casino security. BuzzFeed's McKay Coppins captured video of the incident. A man he identified as a Trump supporter is heard shouting "light the motherfucker on fire" as Austin is restrained.
"What disturbed me mainly was that they met someone who was definitely loud and hopefully disruptive, that was absolutely my intent, with a lot of force, physically assaulting me," Austin told Yahoo News. "No one ever came and said, 'Hey, you need to be quiet or leave' or anything like that. I was met immediately with force." He was placed in police custody, but was not arrested.
Austin said he heard Trump supporters shouting the n-word, and said that as a black man, he felt the remark about setting him on fire had "serious historical context." "I heard 'Hail Trump!' several times as though it were a Nazi youth or Hitler Youth group meeting or something of that nature," Austin said. "I heard a lot of rhetoric that definitely put me in the mind of Nazi Germany, not 2015 America."
Austin was one of about ten protesters affiliated with Unity Vegas, and some of them were ejected as well. Amanda Staten showed Yahoo video of a man snatching the phone she used to film Austin's removal, saying "Whose side you're on?" She was removed after she kicked him. Another protester said he was removed for holding a Unity Vegas sign.
This is not the first time Trump supporters have gotten into an altercation with Black Lives Matter protesters. Last month in Alabama, activist Mercutio Southall Jr. was reportedly punched, kicked, and choked when he interrupted a Trump rally. Later, Trump said, "maybe he should have been roughed up because it was absolutely disgusting what he was doing."