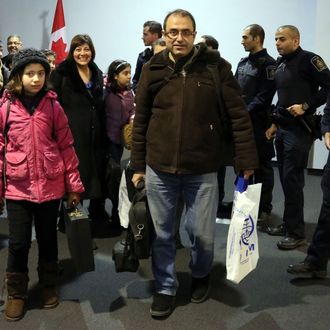 Oh, Canada!
Photo: Kenneth Allan/Canada Border Services Agency
Canadian prime minister Justin Trudeau and a slew of other Canadian leaders welcomed more than 160 Syrian refugees Thursday at Toronto Pearson International Airport, the first big wave of refugees to arrive in Canada. 
"This is a wonderful night," Trudeau said at the airport terminal, "where we get to show not just a planeload of new Canadians what Canada is all about, we get to show the world how to open our hearts and welcome in people who are fleeing extraordinarily difficult situations."
Trudeau pledged to resettle 25,000 Syrian refugees by the end of this year during his campaign, and he's making good on that promise, though the deadline has been extended to the end of February 2016. About 1,000 Syrian refugees are expected by the end of this month, and another 10,000 more by the end of this year. The United States has committed itself to taking in 10,000 through September 2016.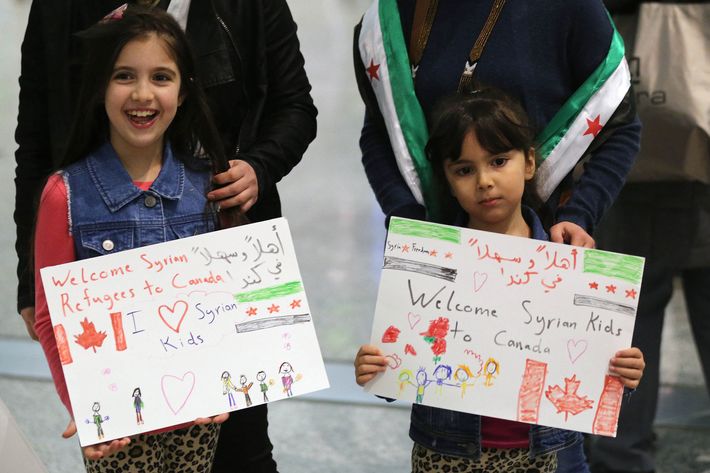 According to the New York Times, some conservative leaders disagreed over some of the details of the plan, but politicians and the public alike have largely supported the resettlement of Syrian refugees. The public was actually warned to stay away from the Toronto airport, as officials feared the overwhelming rush of kindhearted people who wanted to greet the refugees with open arms. That did not stop some people from trying; some carried signs, and a reporter found at least one group offering the ultimate Canadian welcome present: Tim Hortons gift cards.
About 400 refugees are already in Canada, all of whom had come over on commercial flights. But yesterday's Canadian forces plane carried just refugees; another big group will arrive Saturday in Montreal. All of the Syrians who have come to Canada so far were privately sponsored, either by individuals or small groups. 
Before the refugee families headed to their hotels, they were suited up with winter coats, as Canada's climes are just a bit different from those in Aleppo and Damascus, where most of the refugees are from. The majority will stay in Toronto, while others are heading to Columbia and Alberta, reports the Times. At least one family will be moving to Whitehorse, in Yukon territory — home, according to The Guardian, to the world's northernmost mosque. 
"We suffered a lot," a refugee arriving with his wife and 16-month-old daughter told the New York Times. "Now, we feel as if we got out of hell and we came to paradise."
Now let's take a trip down south, to the United States, where some states are still doing anything possible to keep out the handfuls of refugees that are now moving there because of terrorism fears. On Thursday, a federal judge shot down Texas's suit to block nine Syrian refugees from arriving in Houston because of security concerns. The judge said the petition, filed by Texas's attorney general, was "largely speculative heresy" and that Texas failed to produce evidence that these refugees were a legitimate threat. Texas is one of nearly 30 states that have protested the resettlement of Syrian refugees.
Also this week, a presidential candidate not named Donald Trump — specifically, Texas senator Ted Cruz — introduced the State Refugee Security Act to the Senate, which would require states to receive 21 days' notice before refugees are resettled there, and would amend the immigration law to let states reject refugees "unless there is adequate assurance that the refugee does not present a security risk." 
A total of 21 refugees, many of them children, were bound for Texas — which happens to be one of the biggest recipients of all refugees nationwide — this week. Texas has received about 250 Syrian refugees so far this year. The United States, as a whole, has resettled about 2,300 since the start of the Syrian civil war in 2011.