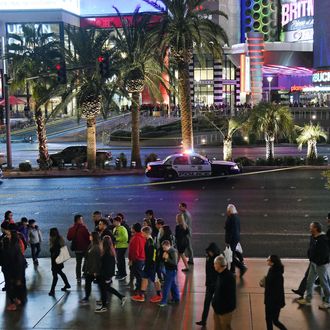 Pedestrians walk by across from Planet Hollywood Resort & Casino after police shut down all vehicle traffic on the Las Vegas Strip.
Photo: Ethan Miller/Getty Images
On Sunday night, a 1996 Oldsmobile with Oregon plates careened onto the sidewalk on the Las Vegas Strip, injuring dozens of pedestrians and killing one.
The driver, a 20-something woman with a 3-year-old in the car, according to the New York Times, has been detained. The toddler was not hurt. Las Vegas Deputy Police Chief Brett Zimmerman told reporters that the incident appeared to be "intentional," but was "not an act of terrorism." The driver, who has not been identified and reportedly moved to the region recently, is expected to face charges.
The incident happened not far from the Planet Hollywood Resort where the 2015 Miss Universe pageant was taking place last night. After hitting the first crowd, the driver reported got back on the road, drove a bit more, and then swerved into another group of people. Bystanders were apparently slamming on the car to try to get her to stop. She fled the scene, but was apprehended by the police. 
One tourist told CNN, "It was mayhem, and it was very intentional. People were flying. This child I saw, literally, hit, and the sound, I'll never forget."