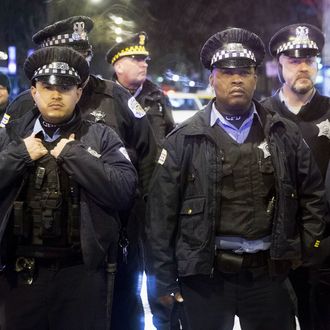 Photo: Scott Olson/Getty Images
Chicago police shot and killed two people early Saturday morning, one a college student, the other a mother of five who lived in a neighboring apartment, NBC Chicago reports.
Police were responding to a call from the father of 19-year-old Northern Illinois University student Quintonio Legrier, who said that his son was wielding a metal baseball bat and acting erratically, according to ABC 7. Legrier's mother, Janet Cookery, told the station that her son suffered from a mental illness but had never acted out violently before. Neighbors and family members told NBC that Legrier was threatening his father, who is also the building's landlord.
Those sources also told the channel that police shot and killed Betty Jones, a 57-year-old neighbor of Legrier, shortly after she opened the door to let them in. Latesha Jones, the woman's daughter, told NBC that police shot her mother while standing outside the home, immediately after she opened the door. The family says they intend to file a lawsuit.
Chicago Police Chief of Detectives Eugene Roy said in a Saturday-morning press conference that officers were "confronted with a combative individual," and that the subsequent use of force was under investigation by the Independent Police Review Authority.
"I went to the hospital and my son had seven bullet holes in him," Cookery told ABC 7." That's too much."
The shooting comes at a time of crisis for the city's police department. In late November, the city government was forced to release video footage of a Chicago police officer shooting 17-year-old Laquan McDonald 16 times. The U.S. Justice Department subsequently opened a civil-rights investigation into the Chicago P.D.
On Christmas Eve, protesters demanding the resignation of Chicago mayor Rahm Emanuel disrupted holiday shopping on the city's Magnificent Mile.