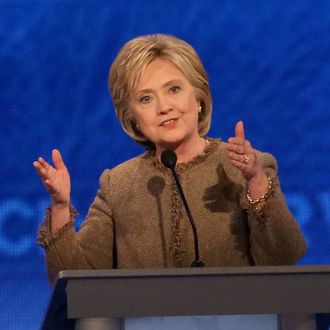 After months of fact-checker frustration with Donald Trump, Hillary Clinton gave them a new target on Saturday night.
Photo: Andrew Burton/Getty Images
In Saturday night's 3rd Democratic debate, Hillary Clinton sought to emphasize her line that Donald Trump has become "ISIS's best recruiter" by suggesting that the extremist group was using Trump in their recruiting videos, a claim which has now been widely discredited by fact-checkers and ISIS experts, and which prompted Trump to call Clinton a liar on the Sunday-morning talk-show circuit.
As a result, Sunday morning also saw Clinton campaign manager John Podesta and spokeswoman Jennifer Palmieri work to walk Clinton's statement back. Appearing on ABC's This Week, Palmieri said that Clinton "didn't have a particular video in mind" but was instead referring to jihadists' social-media activity, a line Podesta echoed on NBC's Meet the Press, where he insisted that "if you look at what's going on [on social media], they are definitely pointing at Mr. Trump." The Clinton campaign has also highlighted comments from the SITE Intelligence Group's Rita Katz, who told NBC News earlier this month that across ISIS's social media, which SITE tracks, "They love [Trump] from the sense that he is supporting their rhetoric … They follow everything Donald Trump says. When he says, 'No Muslims should be allowed in America,' they tell people, 'We told you America hates Muslims and here is proof.'" Katz then subsequently confirmed to the Washington Post that "ISIS didn't feature Trump in a video, but ISIS supporters and recruiters have used Trump's rhetoric to promote ISIS' ideas and agenda." 
However, it's also worth noting that extremist expert Seamus Hughes told Reuters that ISIS's official propaganda channels haven't mentioned Trump or his comments at all, and as the Associated Press notes, ISIS-linked attackers typically point to Western airstrike campaigns in Syria as their primary motivation. So while it's possible that Trump's comments are being used in some kind of official recruiting capacity — and that's definitely something ISIS-watchers are worried about — the evidence may be limited, and even if a Trump-citing recruitment video exists, Clinton's campaign seems to be making it clear that she hasn't seen it.
Knowing ISIS's media savvy and its penchant for self-aggrandizement, a Trump-centric video may indeed soon appear, but if and when that happens, Trump insisted on Sunday that it wouldn't influence his anti-Muslim rhetoric, which has so far included calls for a ban on Muslim immigrants, the registration of those already in America, and the deliberate military targeting of jihadists' families, as well as his own discredited claim that scores of American Muslims in New Jersey had cheered the 9/11 attacks. On Meet the Press, host Chuck Todd asked Trump if he would change his language if he knew that his words were being used to recruit terrorists, and Trump replied, "No, because I think that my words represent toughness and strength. Hillary's not strong, Hillary's weak, frankly. She's got no stamina, she's got nothing."