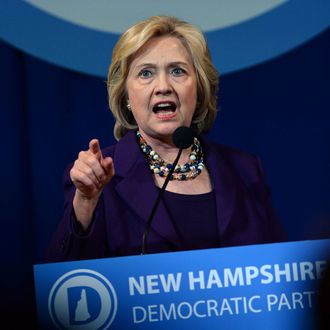 Photo: Darren McCollester/Getty Images
With a thousand points of darkness pointing toward a fear-of-terrorism-based Republican presidential election, it's important to remember that the likely Democratic nominee has some national-security credentials of her own. An ABC/Washington Post poll released last week shows that when Americans are asked "Who would you trust more to handle the threat of terrorism?" Hillary Clinton leads every named Republican rival.
The Post's Greg Sargent laid it out:
On the question of who is more trusted to handle terrorism, Clinton leads Trump among Americans by 50-42; she leads Ben Carson by 49-40; she leads Ted Cruz by 48-40; she leads Marco Rubio by 47-43; and she leads Jeb Bush by 46-43. In fairness, the last two of those are not statistically significant leads, and among registered voters, her lead "slims or disappears." But this poll does suggest at a minimum that there is no clear edge for the GOP candidates over Clinton on the issue.

What's striking here is that it comes even as Obama's approval on terrorism is down to 40 percent. As Post polling guru Scott Clement notes, the poll shows a sizable bloc of voters who disapprove of Obama on terrorism but nonetheless say they trust Clinton over her GOP rivals on the issue.
This last finding, if it is accurate, complicates the Republicans' challenge. They must focus specifically on HRC's national-security record and agenda even as the party base insatiably craves a steady diet of Obama-bashing.