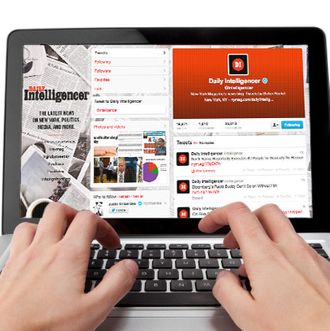 Welcome back to the New York Magazine Competition. On alternate Mondays (or, this week, Tuesday), we lay out a challenge and offer sample responses. Enter in the comments section or on Twitter with the hashtag we've provided, and the editors will select a winner. Criteria are highly subjective, but heavily retweeted and favorited posts will have an advantage. The prize is a year's subscription to New York in print or a two-year subscription to the iPad edition (winner's choice). Full rules are here.
COMPETITION NO. 62: "CHRISMUKKAH CAROLS." Please rewrite a familiar Christmas song's title or lyrics accordingly. For example:
"God rest ye, merry gentlemen / May nothing you despair / Remember Christ of Bethlehem / Was one of us. So there."

"What Kind of Child Is This?"

"We wish you a Murray Glickman, and a happy New Year."

"We Three Kings of Borough Park Are"
Enter on Twitter with the hashtag #chrismukkahcarols, or in the comments thread below, by December 17. [NOTE: The Competition will return on December 28.]
RESULTS OF COMPETITION No. 61, "THANKSGIVING CONVERSATION-STOPPERS," in which you were asked to offer a sentence that would bring dinner to a screeching halt.
HONORABLE MENTION TO:
"The Lions game is on."
—MC5
"Welcome! Come in! It's $20 per person, $10 for children under 10 years of age, and $25 if you want seconds.  Make yourselves at home!"
—rgqueen
"Dad, I have told you how uncomfortable it makes me when you stare at me like that. I don't care that you are leading the Republican primary polling."
—contrarian_dip
"What happened to my Band-Aid? It was on my finger when I was stuffing the turkey…"
— PassTheTanningButter
"Think about how this poor turkey must have suffered."
—Lexxman
"Oh, you don't say grace. How modern."
—nycityofmind
"And we foraged all the wild mushrooms ourselves!"
—3North
"Boy, those French surrender monkeys sure wised up in a hurry, didn't they?"
—Hal10034
"Let's put all our guns on the table as a gesture of goodwill.  I'll go first."
—RegisMayhem
"You might want to crack a window."
—mtmiller
"What's this Facebook thing everyone is talking about?"
—gianna13
AND THE WINNER IS:
"Sweetie, we can't all be Adele."
—clippityclop