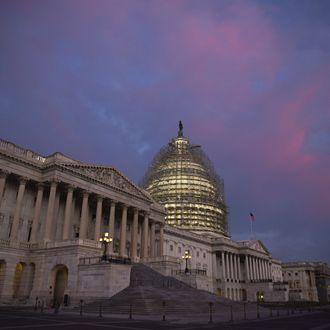 The dome of the U.S. Capitol building is illuminated at dawn on December 11.
Photo: Drew Angerer/Bloomberg via Getty Images
Unsurprisingly, Congress was unable to pass an omnibus spending bill before tonight's deadline, which was set the last time Congress was unable to pass legislation to fund the government through the whole fiscal year back in September. Exactly one year ago, the House passed an omnibus spending bill hours before a deadline; at this point, "Narrowly Averted Budgetpocalypse Day" should probably just be put on the annual congressional calendars.
However, Congress did give itself a five-day extension: A short-term spending bill was passed today that pushes the threat of shutdown from this weekend to next week. House Speaker Paul Ryan told reporters that legislators might need even more time to make a deal on the many unresolved issues that made it impossible to wrap everything up on Friday. All of which should make the Capitol a very merry place next week — there is nothing jollier than hundreds of Grinches miserable because they are yelling at their colleagues instead of going back home to spend time with their families. 
According to ABC News, those masterminding the budget have narrowed the number of policy riders being considered from 202 to about 40 (policy riders are basically the legislative equivalent of stocking stuffers). In order for the two parties to reach an agreement on the spending bill, Republicans are going to have to let in a few policy riders they hate, and Democrats will have to do the same.
Republicans are trying to include a few provisions regarding abortion and Planned Parenthood funding, which Democrats would refuse to approve. Other Republican policy riders involve the Obama administration's power-plant rules, the U.S.'s Syrian-refugee policy, the crude-oil ban, and Dodd-Frank. Democrats are eager to get rid of a provision passed more than a decade ago that prohibits federal gun-violence research. Leaders in both parties have said that a law that gives health benefits to 9/11 responders will also be extended.
After these issues are resolved and the bill text is released, there is always the possibility, as The Hill points out, that a few certain presidential candidates with a tendency of delaying legislation in order to give press-absorbing speeches in the Senate involving citations of Ashton Kutcher and Darth Vader might make things difficult next week.
In case that wasn't enough work, legislators also need to pass a bill reauthorizing a bunch of popular tax breaks. It isn't clear whether they will be extended permanently, or just for another two years.
Meanwhile, D.C. is getting ready just in case a shutdown happens. Three legislators in Virginia — where a bunch of federal workers happen to live — are trying to pass legislation to make sure those who could get furloughed receive back pay. 
However, the desperation of lawmakers eager to not spend the rest of the year at the Capitol might be enough to make that legislation inessential, at least for now. "Give the American people what they deserve: some peace, quiet and certainty in the Christmas season," Representative Tom Cole told USA Today.