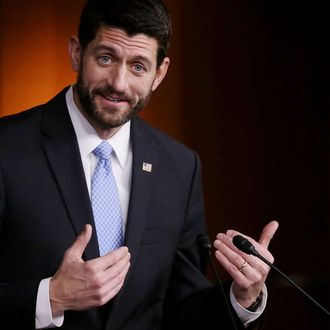 Hey, I passed legislation without everyone yelling at me. Pretty cool, huh?
Photo: Alex Wong/Getty Images
The House and Senate both passed the $1.15 trillion spending package it cobbled together at the last minute on Friday morning, which means America doesn't have to deal with a government shutdown, and Congress doesn't have to stick around the Capitol next week getting cabin fever.
Because this is Congress, and most legislation requires a bit of compromise, both parties are tempering their excitement about passing the spending deal (look, look, America, we know how to pass things — aren't you proud of us??!?) with a bit of griping about how the bill was like opening your birthday presents and realizing you only got socks and cold medicine. 
"This legislation is worth supporting," Senate Majority Leader Mitch McConnell said, adding, "It's not perfect and we certainly didn't get everything we wanted." Republican senator John Cornyn called the legislation "the antithesis of perfect [but] in the end, nothing passes Congress and gets signed into law by the president without some level of bipartisan cooperation and both chambers of Congress working together with the executive branch."
Many Democrats didn't like the package because it ended a ban on exporting crude oil and didn't offer any help to Puerto Rico, which is dealing with some seriously tough financial stuff. House Minority Leader Nancy Pelosi didn't think it was possible to get the bill passed without concessions, and she definitely wouldn't have been able to keep provisions that her party colleagues would have abhorred — like defunding Planned Parenthood, making the Syrian-refugee screening process more complex, or messing with the Obama administration's environmental and immigration policies — out of the deal if Democrats didn't agree to nix the ban. 
"Many people had a screen over seeing what is good in the bill because of the oil," she said, according to Politico. "Even me. I said, 'What am I doing? I'm empowering oil.' … I don't think they would have passed it. They had to put Big Oil in the omnibus to get it passed."
Last night, Congress passed legislation that permanently extends many tax breaks, which Republicans liked far more than Democrats and probably made scrounging together the votes for the omnibus much easier. 
Republican representative Tim Huelskamp, who opposed the legislation, told CNN that the omnibus spending deal only passed as "a courtesy to the new speaker." House Speaker Paul Ryan called the deal a bipartisan success — but also said he didn't have much leeway in making the legislation more conservative-friendly or giving lawmakers more time to chew it over. "We inherited a process, a cake that was pretty much more than half-baked," he said, blaming the House's favorite person to blame for everything that goes wrong, John Boehner. 
Presidential candidates — who often feel that ideological orthodoxy is a quicker path to voters' hearts than showing they can compromise — mostly opposed the deal. Senator Lindsey Graham was the only candidate to vote for the deal.
And here's some extra-good news for the New York metro area: The Zadroga Act, which provides heath-care benefits for 9/11 first responders, was extended until 2090 — in other words, permanently. One retired firefighter told NBC News, "What took 'em so long? To put first responders through the loop and use us as a political football was just wrong. The heartache everyone had to endure, it was horrible." 
After the Senate passed the omnibus, Senator Kirsten Gillibrand said, per the New York Daily News, "This is my proudest day in Washington."