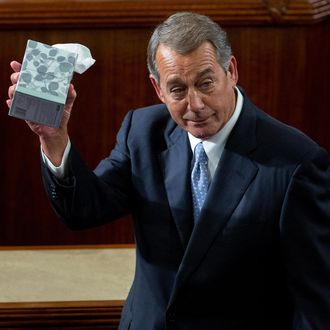 Looks like he still needs these.
Photo: Andrew Harrer/Bloomberg/Getty Images
After making John Boehner's speakership thoroughly miserable, in October the most conservative members of the House made his life so difficult that he decided to resign. It seems like seeing Boehner reduced to embracing the joys of vacuuming would be enough to satisfy his enemies, but apparently not. Representatives Walter Jones and Thomas Massie, who both pushed to oust Boehner before his retirement, introduced a bill on Wednesday to strip him of his federally funded office.
For up to five years after leaving office, former speakers can use federal money to set up a modest office on the Hill. Boehner has hired one staffer and claimed space in the Longworth Office Building, which his spokesperson Dave Schnittger described as "basically a room full of boxes. "As a matter of standard practice, all former speakers of the House have an office for a period of time after leaving Congress for purposes of archiving, winding down the unique work they did as speaker, and facilitating the transition from one speaker to the new speaker," Schnittger said.
According to Jones and Massie the perk is an egregious waste of taxpayer funds, especially since Boehner's likely to rake in a handsome retirement income. "I'm sure he'll have book royalties and speaking fees and consulting income," Massie told Cleveland.com. "He doesn't need an office over here at the Capitol."
Both men insist their legislation is about eliminating waste, not punishing Boehner. It's just a funny coincidence that they decided to crack down on the 45-year-old practice just as their old foe tried to take advantage of it.