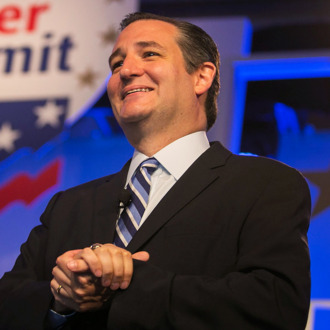 Senator Ted Cruz is moving on up in the polls, but nobody votes until February 1.
Photo: Congressional Quarterly/Getty Images
The trend was first hinted at by a methodologically suspect survey released last week by Monmouth University. But now it's been established by the "gold standard" of Iowa polls, Ann Selzer's survey for the Des Moines Register and Bloomberg: Ted Cruz has passed Donald Trump like he is standing still (which he actually is), and is registering impressive favorability and second-choice numbers as well. Too bad for him, voting is still a month and a half away!
Selzer shows Cruz leaping an unprecedented (for her Iowa caucus polls) 21 points, from 10 percent to 31 percent, since her last survey in October. Donald Trump actually gained a couple of points to run second with 21 percent. Ben Carson lost over half his support, dropping from 28 percent (and first place) in October to 13 percent now. One way of looking at the dynamics in Iowa is simply that much of Carson's conservative Evangelical backing has migrated to Cruz (the Texan now has 45 percent among Evangelical/"born again" Christians, who also currently make up half of likely caucusgoers). Marco Rubio is holding steady in fourth place at 10 percent. The other 23 percent is scattered; for his millions in super-pac ad spending, Jeb Bush has climbed from 5 percent in October to 6 percent in December, but his favorability ratio has deteriorated to a dismal 39/54.  
At the same time, Cruz seems to have become broadly popular among Iowa Republicans. His favorability ratio (73/19) is now a bit better than that of longtime favorability kings Carson (72/22) and Rubio (70/21). Cruz also leads the field in second-choice preferences at 20 percent. Everything's looking up for the Joe McCarthy look-alike. 
A secondary confirmation of the Cruz Surge in Iowa comes from Fox News, which has him leading Trump 28-26 (Rubio is at 13 percent, and Carson at 10 percent, an exact reversal of the Selzer poll). Both polls, by the way, show Trump and Cruz leading Rubio in assessments of general-election strength, assuming Hillary Clinton is the Democratic nominee. 
Is the Cruz surge national in scope? Probably: A new NBC/Wall Street Journal survey shows the Texan more than doubling his support since late October and climbing into a strong second place at 22 percent, as compared to Trump's 27 percent. As in the Iowa polls, Trump is actually gaining a few points while Carson is hemorrhaging support (dropping from 29 percent in late October to 11 percent now).  
Cruz's new dominance in Iowa will lead some Establishment and academic critics of poll-gazing (or use of any evidence other than elected-official/party-leader endorsements) to point out that the last two right-wing caucus winners, Mike Huckabee ('08) and Rick Santorum ('12), did not come close to the nomination. But Huckabee's big problem was his constitutional inability (which he seems to have retained) to raise money; even then, had Fred Thompson not made a last-gasp effort in South Carolina and tipped that state from Huck to John McCain, things could have become a lot more interesting. For all his foibles, Rick Santorum did come a few thousand votes in Michigan from creating a crisis of confidence in Team Romney. Cruz is very good at raising money, and has multiple flush super-pacs. And whereas Huckabee and Santorum put everything into Iowa and had zero infrastructure in New Hampshire, Cruz seems to be doing pretty well in the Granite State as well. 
Cruz's big problem right now is that he might be peaking too early in Iowa. But who's going to beat him there? Trump could, of course, though Cruz's strategy of shadowing Trump's issue positions closely gives him the benefit of being the most likely alternative for Trump fans alarmed by this or that Trump statement or concluding he cannot win. The Donald, moreover, will have to depend on a currently hypothetical ability to expand the caucusgoing universe to include the many marginal voters who dig his act but could be watching another show on February 1. 
Establishment types are praying that Marco Rubio's the one who pulls off the late surge in Iowa and suddenly makes himself the front-runner in a host of states where he's now a bit of an afterthought despite strong favorability ratings. Rubio's problem in Iowa (and also in New Hampshire) is that his campaign's open disdain for the tradition of heavy personal campaigning and a robust field operation is beginning to become a campaign issue in itself. Party officials in early states, and even some voters, think of these contests as validations of their sturdy civic virtues and, yes, as economic development opportunities. Candidates who appeal to them primarily on the airwaves (which has largely been Rubio's practice) offend their sensibilities. Marco Rubio would be well advised to schedule some extra time in Iowa and New Hampshire in January, and hire some more field staff. He's still in good shape in Iowa, but he cannot survive too many more jokes about running for mayor of Ankeny (the Des Moines suburb where his HQ is located, beyond which he rarely roams).
All in all, the new dynamics of the race, amid signs there may be no "pause" in white-hot campaigning for Christmas this cycle, mean tomorrow night's candidate debate could again be a table-setter for somebody — and possibly an ill-timed disaster for somebody else.