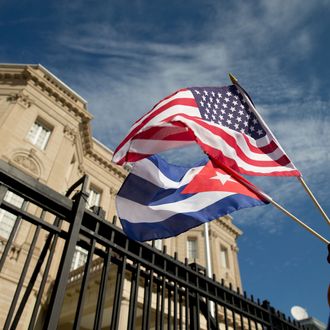 Start thinking of reasons you need to go to Havana.
Photo: Andrew Harnik/Corbi
Just before the one-year anniversary of the announcement that the U.S. and Cuba would restore diplomatic ties, the two nations have made another breakthrough. U.S. officials tell the Washington Post that a deal has been reached that will allow U.S. carriers to begin offering direct commercial flights to Cuba. The technical details are still being worked out but a formal announcement is expected in the next few days.
American travel to Cuba is up 50 percent this year, and American, Delta, United, JetBlue, and Southwest have expressed interest in having daily scheduled flights to Havana. Currently travelers must book charter flights, which cost about $500 round trip from Miami and involve various other hassles. Tickets probably won't be available to the public for three to six months, but the deal would make it much easier for Americans to travel to Cuba by allowing them to book their own travel (if it falls into one of 12 authorized categories), rather than going through a tour group.