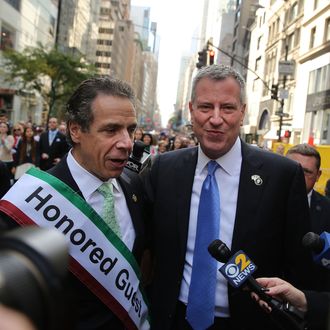 Photo: Spencer Platt/2013 Getty Images
Mayor Bill de Blasio and Governor Andrew Cuomo deigned to have dinner with each of their least favorite people Tuesday night — each other. According to reports, the two met in Manhattan for a (no longer secret and probably pretty awkward) meal to try to see if they could work out their differences and stop passive-aggressively sniping at each other in the press.
The two dined at Casa Lever, an Italian restaurant in east midtown that is reportedly one of Cuomo's favorite spots. They at least can agree on choice of entrée, as they both ordered a $46 branzino instead of getting meatballs and marinara, which former New York senator Al D'Amato had recommended as the meal for a "pasta summit" to unite the two back in July.
D'Amato wasn't invited, but two aides joined — one from de Blasio's office, the other from Cuomo's — probably so the politicians wouldn't have to talk to just each other the whole time. 
It's not clear what they actually discussed, and they only met for about an hour. One restaurant staffer told the Post that it looked like a "serious business meeting." The two were sequestered in the back, away from other dinners, so no one could overhear snippets of their conversation or figure out who picked up the tab.