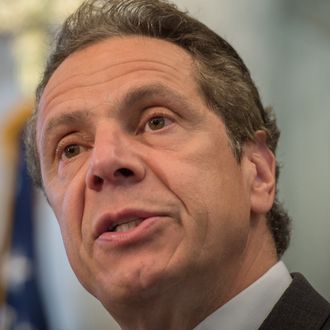 Photo: Bryan Smith/Corbis
On the same day that President Obama signed into law an education-reform bill consigning his predecessor's No Child Left Behind policy to the dustbin of history, a panel of experts in Albany took aim at America's other least favorite federal education initiative.
The task force appointed by New York governor Andrew Cuomo to overhaul the Common Core standards the state adopted in 2010 issued a set of recommendations on Thursday that, if adopted, will see school curricula and assessment standards move further away from the Common Core, the New York Times reports.
The panel's report calls for educators and parents to take part in developing new standards and recommends that the standards for kindergarten, first grade, and second grade in particular be made more age-appropriate. It has less to say about upper grades, and expresses support for Common Core's "key instructional shifts," so it remains to be seen how different the new standards will actually be.
Additionally, the task force is recommending that the state not use test scores to evaluate teachers until after the 2018-19 school year, so that new standards and tests can be devised.
The introduction of Common Core–aligned reading and math tests in 2013, as well as their use as tools for assessing teacher performance, sparked a major backlash from both parents and educators when students were flummoxed by bizarre questions and pass rates declined precipitously. This year, 20 percent of New York students opted out of the standardized state exams.
It's not yet clear what effect the Every Student Succeeds law Obama signed today will have on states' adherence to Common Core standards. The bill prevents the federal government from mandating or incentivizing a particular set of school standards.