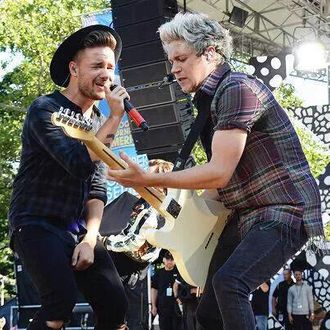 Despite the fact that we have three more awful weeks left in this trash-fire year, Twitter has already released its Year in Review, containing, among other things, the year's most popular tweets, as measured by retweets.
The Most Retweeted page in particular offers a fascinating look at the inner popularity dynamics of British boy band One Direction.
Shiny-maned fancy boy Harry Styles had the No. 1 most-retweeted thought of the year.
That tweet was directed at One Direction member Zayn Malik, who had just revealed that he was leaving the group. Zayn had the second-most-RT'd tweet of the year in August, when he publicly came out in support of the lads' new sing "Drag Me Down."
Liam Payne came in third place because he remembered the band's anniversary. Congrats on surviving five years in social-media hell, One Direction.
So, for those counting, the top three tweets of the year were all from members of 1D. The streak is broken by the fourth-most-retweeted tweet: Barack Obama's tweet supporting the Supreme Court's legalization of gay marriage.
But 1D returns in slot five with Louis Tomlinson, who tweeted that he loved the fans. Love you, too, Louis! That's four of the five original 1D members — we're just waiting to see Niall.
Hot on the heels of Louis is … King Salman, the newly crowned King of Saudi Arabia?
Where's Niall? I bet Niall's coming up next. No wait, it's Kanye.
FINALLY, we get to Niall, bringing up the rear in spot number 8. With a friggin' birthday message.
Niall, my dude, please get it together. You have 23.7 million followers, and all you could muster was 322,000 retweets. Embarrassing. The other 1D boys, and Zayn, are out there every day, busting their butts to give the fans what they want: the hottest, most social content on the web. Niall, please step up your tweet game in 2016. Shape up or you'll be replaced with the only man out there who commands as much retweet respect as your brothers in arms: Barack Obama.