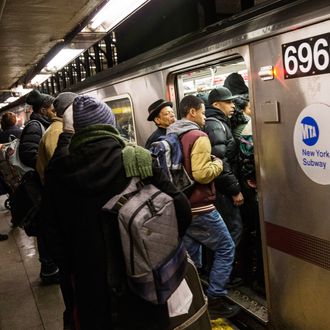 Photo: Andrew Burton/Getty Images
Subways are dealing with record delays, and New Yorkers are at least partially to blame. Ridership is at all-time highs, reports WNYC, which also means the number of late trains is skyrocketing as a result of overcrowding. The figures are pretty bleak, according to a recent MTA report: In October 2015, there were more than 55,000 subway delays, with more than 20,000 as a result of overcrowding on trains — up from about 13,800 due to overcrowding in October of last year. 
New Yorkers are really cramming onto these trains, though. Approximately 6 million people swiped their MetroCards on more than half of the days in October 2015, including one day that saw almost 6.2 million riders. That's the highest figure since the agency began keeping track in 1985 — and probably the largest number of people stuffed onto the trains since the 1950s, though the MTA can only estimate.
Crime is also up on the train; the number of major felonies (assault, burglary) inched up to more than 9 percent from last year, including a nearly 20 percent increase in robberies. The Post would also like to point out that "City subways are a pervert's paradise," as arrests for sex-related crimes — gropers, flashers, and that ilk — also rose from last year. The NYPD deputy chief for the MTA, however, said it's likely that there aren't more creepy people riding the rails, but that people are more vigilant about it — and have cell phones to capture the evidence.   
So despite Uber, germs, cell-phone snatchers, and the high probability you're going to be delayed because that guy refuses to move into the middle of the car, New Yorkers just keep putting themselves through this day after day. Add to that a Daily News report that says the construction project that will never end known as the Second Avenue subway might once again be delayed past its December 2016 deadline, which isn't great news for the already overstretched 4, 5, and 6 lines.